We're looking for franchisees in Orlando, Tampa, and Jacksonville, FL
Are you interested in an exciting chance to start a business with an already established brand, training, systems and tools identified for you? Shine's booming franchise could be the perfect solution for you! We have a winning formula to help franchise owners establish their new location, build awareness and generate leads quickly.
When you become a Shine franchise owner, you can be part of a dedicated, nationwide team that provides window cleaning, power washing, gutter cleaning, landscape lighting, and holiday lighting services to residential and commercial customers.
Entry into a successful business network like Shine is a tried-and-true way to make leaps and bounds in your career, build a solid foundation, and create endless business opportunities.
Shine Brand Recognition in Florida
Shine has locations in Fort Lauderdale, Fort Myers and Orlando – and we're looking to expand to more areas of Orlando, Tampa and Jacksonville. Since we already have a few locations in the state, we have established brand recognition, which creates a fantastic opportunity to draw in clients and build loyalty.
Shine is getting customer leads from these locations that aren't currently being served by a franchise. That's right – there are existing leads and business opportunities in these cities just waiting to be capitalized on, and you could be the start of this exciting new addition to the expanding Shine franchise!
Benefits of Becoming a Shine Franchisee
There are many benefits of joining Shine as a franchisee. On top of taking part in services that brighten up homes and give more life to commercial buildings, you'll also come to find that the work aspects are superior. 
Low Entry Investment and Low Overhead: Our entry investment fee and low overhead offer a convenient and low-cost solution to keep a business running smoothly, while making consistent profit.
Year-Round Employee Utilization and Revenue System: With Shine, you don't have to worry about seasonal layoffs or slow seasons. Our holiday lighting service presents the opportunity to keep your workers busy throughout all seasons, while maintaining cash flow– even in the wintertime!
Year-Round Services Homeowners Need: Shine's professionals will keep homes and commercial buildings fresh and glowing all year round with our variety of services. 
Industry-Leading Support and Training: After you complete the franchise agreement process, you will become a part of the Shine family! Our team is here to support you through every step. Rest assured that we will provide all the resources you need, like marketing tools, education, and constant motivation that you need to launch your franchise. In just 8 weeks, we promise that you'll start seeing success and your operation will be running smoothly!
Did you know that franchises are more successful than start-up businesses? 
Franchises operate using a fixed business model that has already created business success and revenue, whereas start-ups make adjustments to their business model and change decisions as they go.
In a nutshell: the processes executed within a franchise like Shine tend to be more stable and reliable, elevating your chances of success!
At Shine, our team culture encompasses care, support, and collaboration. Every day, you'll have the privilege of seeing the impact you make on the people working for you and the smiles on the faces of your customers– giving you the unbeatable feeling of knowing you made a difference in a community.
It's simple to become a part of Shine's growing window cleaning franchise. With the Shine branded van and equipment acquired – all you need to start is two crew members and expand from there! 
As general manager and owner of your Shine location, you will manage the business and let your crew do the work. Shine's simple and scalable business model will get you up and running in as little as eight weeks with a year-round revenue stream.
Shine Franchise
Initial Investment
Our award-winning and scalable model offers a low-cost entry investment ideal for people with an entrepreneurial spirit and dreams of starting their own successful business.
The following costs are based on our Franchise Disclosure Document (FDD) and are estimated expenses: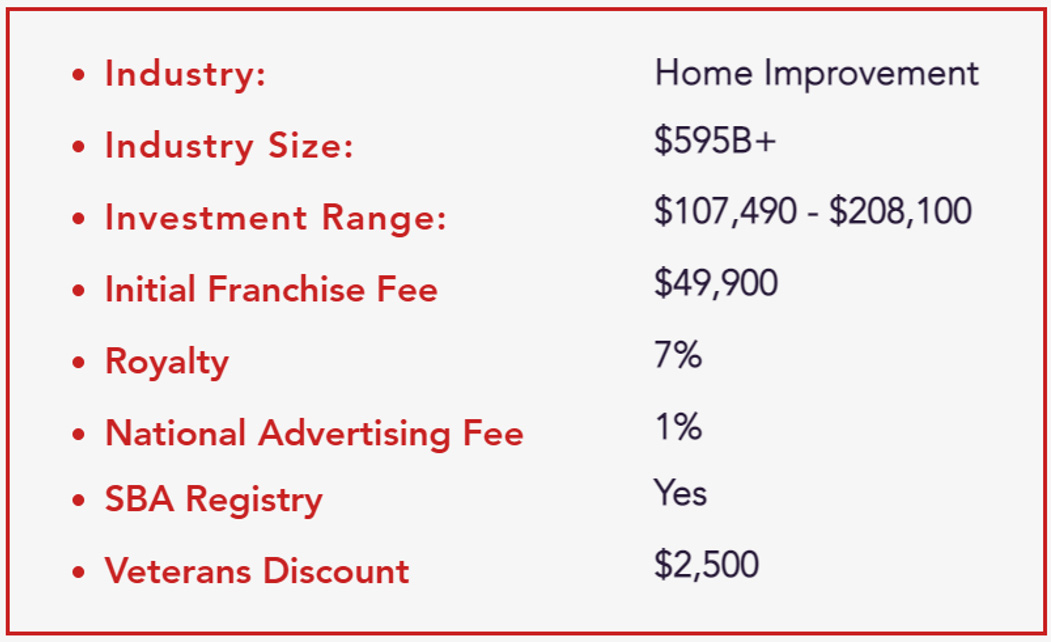 Interested in Becoming a Successful Business Owner? Join Shine Franchise
For more information, fill out our form to download our franchise kit and connect with one of our team members to learn more about Shine and all the training and support we offer!
Get Started with Shine
Are you ready to launch a flexible, scalable home services business that makes a difference in your community? Download our franchise kit and connect with our franchise team today!