How Opening a Franchise Benefits Your Community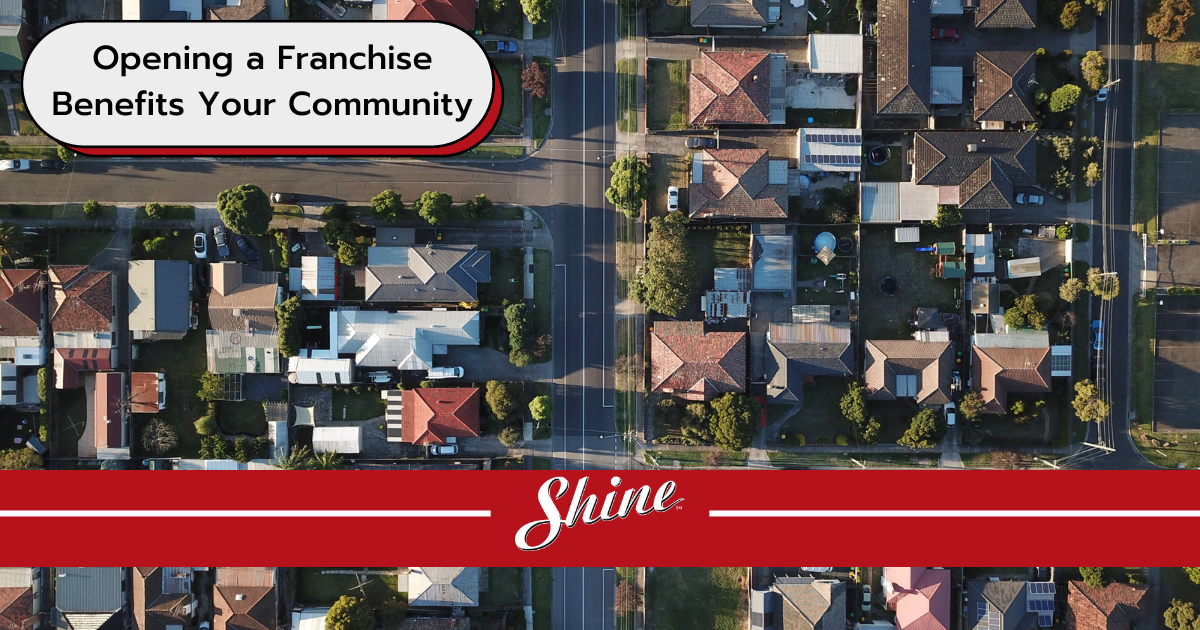 New business is always good for the community. But, when a large national chain comes to town, the experience can be mixed. On the positive side, job creation, commercial growth, and infrastructure improvements are likely. On the negative, nationally owned businesses can affect culture and infrastructure, and most of the business's profits leave the community.
Franchise businesses balance the stability of a large, national company with the benefits of a small, locally-owned business. And franchise opportunities that are quick to scale positively impact the community even faster. Franchise businesses offer several advantages to the community and the local economy.
Money Stays in the Local Economy
While franchise businesses are associated with a national brand, the profits don't go back to the national headquarters. Franchisees own their locations, and beyond paying an annual fee to maintain the franchise, most of the profits stay in the local community. In fact, every $100 you spend at a local business means $68 stays in your community. If you shop at a chain store, only $43 out of $100 spent will remain in your community, according to the Andersonville Study of Retail Economics. More money circulating in the local economy results in improved schools, parks, public transportation, healthcare, and other local services.
Business Stability
A franchise business opportunity provides owners with several benefits, including a proven business plan, brand recognition, and ongoing support and training. Because of this, franchise owners tend to have a leg up over their independent business owner peers. According to the U.S. Bureau of Labor Statistics' entrepreneurship report, "It's generally accepted, because of their established, proven business practices, that franchises have higher success rates than independent businesses." The advantages of opening a franchise business with greater stability extend to your community through employment opportunities, economic growth, and innovation.
Franchises Employ a Variety of Skills
Many franchises run on an owner-operator model – meaning that as the franchise owner, you also run the day-to-day operations. While the national partner should provide support, franchise owners must recruit a dependable team with various skills to make their business successful. This can vary from entry-level positions to management, ranging from general labor to experience with sales, marketing, or accounting.
Stronger Cultural Fit & Social Impact
Locally owned businesses reflect the community from which they come. Franchises are owned and operated locally – often within a specific local territory – and employ local people. As a local franchise owner, you understand how to best communicate with and serve your community while bringing a recognized, valued brand to your area. Because of the close ties with the community, franchise businesses are involved with local charities, fundraisers, and events, and many franchises are encouraged by their partner companies to get involved locally. A franchise is a part of the community in a way that national businesses can't mimic.
Community Minded Franchise Opportunities
Shine is a community-minded franchise business opportunity that puts people first. Shine is a leading home services brand that provides holiday lighting services, landscape lighting, window cleaning, power washing, and gutter cleaning to residential and commercial customers.
Our mission is to help aspiring entrepreneurs become their own boss, love their work, and brighten their community's homes and commercial buildings. At Shine, our "culture" is a caring, supporting team that places a higher value on others than on ourselves. Every day you get to see your impact on the people working for you and the smiles you put on your customers' faces after each job.
Shine ownership is attainable with a low entry investment and low overhead, with the ability to scale the business quickly. To learn more about a franchise opportunity with Shine and owning your Shine location, start by downloading a franchise kit today!
More Blog Posts
from Shine