Shine Franchise Recognized on Franchise Business Review's 2022 Culture100 Awards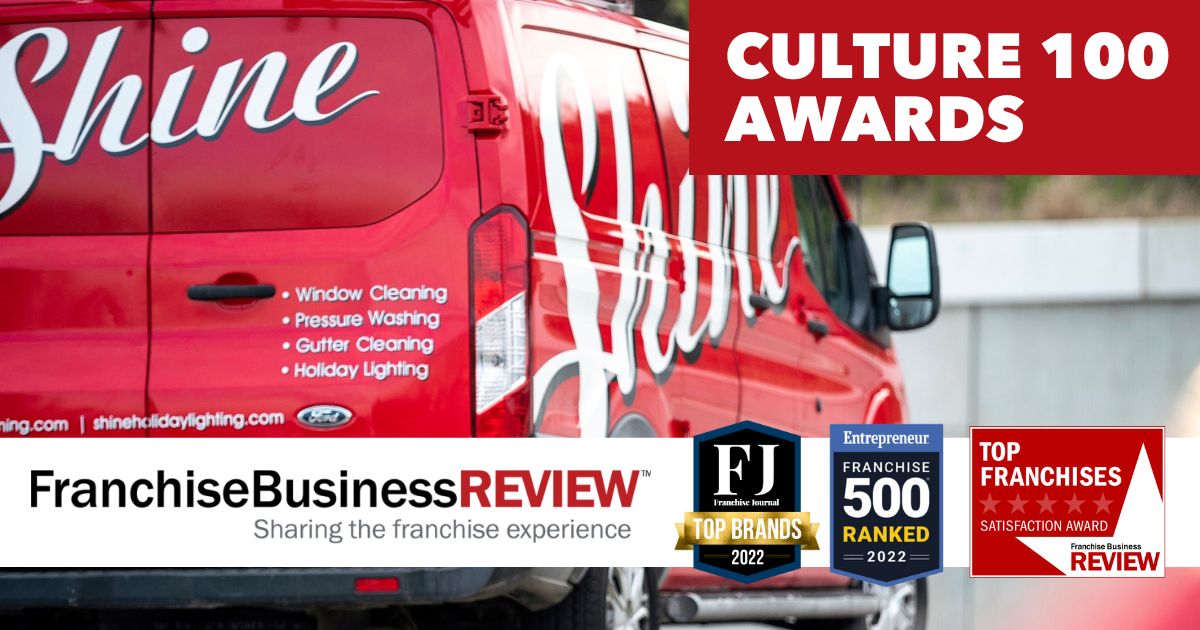 We are honored to be selected for the 2022 Culture100 Awards. Company culture is a driving force at Shine and we are thrilled to be named on such a highly prized list.
Franchise Business Review asked over 30,000 franchisees from more than 300 brands a series of 12 questions that focused on leadership, core values, honesty, integrity, and overall support. On a 100-point satisfaction scale, Shine scored above 80. This ranked us in the top quartile of all franchises surveyed! It means the world to us that our franchisees enjoy and support all of the hard work we put into creating a top-notch business and company culture.
Shine's Proven Experience in the Home Services Industry Gives Owners Confidence
Shine has over 20 years of experience in the home services industry and is consistently rated as a top franchise to own. Our trusted sources and vendors let owners find exactly what they need through the vast network that Shine Franchises has built. The optimized business model we have constructed is another reason why entrepreneurs keep choosing Shine:
Scalable: We provide the equipment and van – all you need to get started is two more employees. Then you can grow your business alongside your growing clientele. Just add more employees and vans as you expand. There's no need to invest in expensive equipment, build more space, or add another storefront.
Year-round Revenue Streams: Keep valuable employees engaged and revenue coming in all year long with Shine's holiday lighting installation.
Exceptional Training: Get up and running in a simple 6-week process. Franchisees have access to comprehensive training that includes daily operations, equipment instructions, meeting the CEO, employee training, and more.
Consistent Support: From day one, you become a part of the Shine. We'll work with you throughout the entire process to ensure you have everything you need to reach your goals.
Marketing Services: Shine already has industry-leading brand recognition. On top of that, we provide simple and effective marketing technology including customer management software, a digital marketing platform, online training, recruiting platform, external and internal review platforms, and more!
Value-Driven Culture
Our culture is family-style caring and support, placing a higher value on others than on ourselves. We've built a team that is a collective safety net. When you need a helping hand, you'll find many there to pick you up. These values carry over to your employees and you'll get to see the lasting impacts and smiles they put on customers' faces after each job!
The value-driven culture of Shine goes all the way to the top. CEO, Chris Fisher, has been giving back to the community since it all started in 1998. He consistently makes trips to the poorest regions of Uganda to serve the less fortunate. This experience led to the creation of Arrows and Hope in 2015, a ministry that supports education and discipleship for orphan and vulnerable children through sponsorships. Now, as a business, we give back a portion of the sale from each new Shine Franchise location.
Our Mission and Values Directly Impact the Culture We Have Built
Our mission is to be a light. By sticking to our mission, we can achieve our vision and work together to be nicer, safer, healthier, smarter, and more ethical in every area of our business. This helps us provide the best customer experience for every home and business owner that we serve. Our mission motivates our culture. When everyone is working towards the same goal with aligned values, getting to the finish line becomes a clear path. The values that we promote are excellence, serving, safety, having fun, and positive energy. We keep these core values in mind when making all business decisions.
Shine is a Top 50 National Franchise and one of the nation's top-reviewed and trusted home service brands. Interested in joining our expanding family in the growing home services industry? Get started by downloading a franchise kit and speaking with a member of our franchise team today!
More Blog Posts
from Shine