What Does It Take to Start a Christmas Light Installation Business?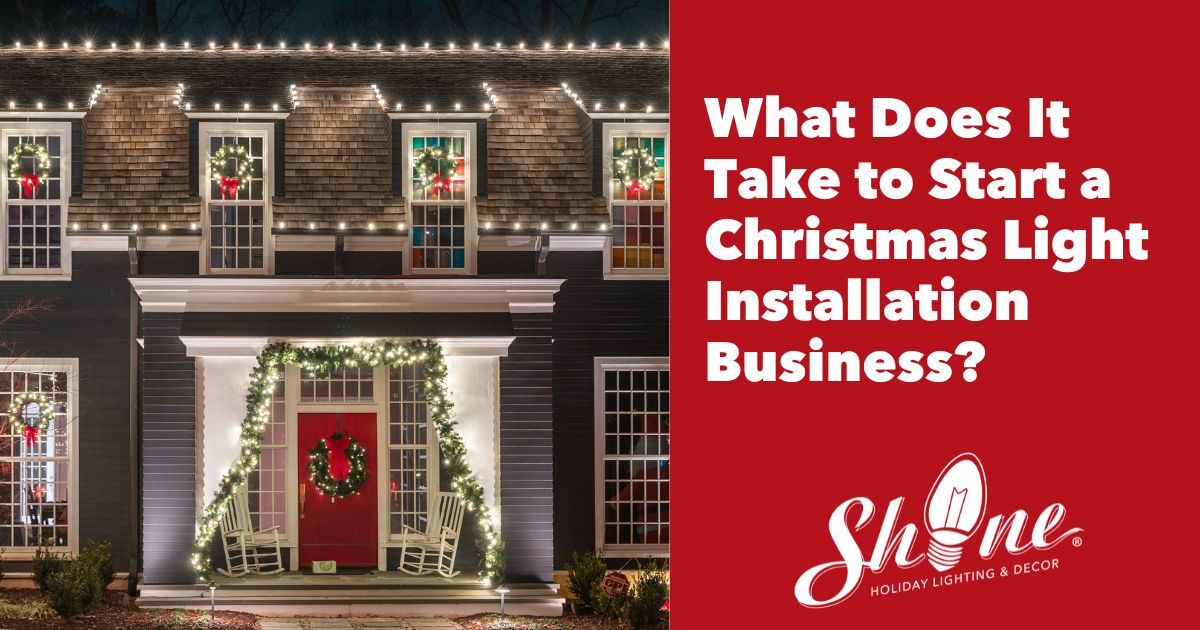 The holiday season is a time of warmth, joy, and the magical glow of lights. For homeowners, businesses, and entire communities, decorating for Christmas has become a cherished tradition that brings people together. The demand for professional Christmas light installation services has been on the rise, creating a unique and lucrative business opportunity. 
In this blog, we'll explore what it takes to start a Christmas light installation business and how you can tap into this growing market through a Shine Franchise opportunity.
The Growing Home Service Market
The United States Home Service Market has been experiencing remarkable growth, driven by a surge in industries and innovative ideas. The numbers speak for themselves: the market was valued at USD 105.55 Billion in 2018 and is projected to reach an astounding $1219 billion by 2026. 
The holiday season stands out as a prime time for home service as Christmas light installations have become an integral part of the holiday season.
Lighting Up Opportunities
For entrepreneurs seeking to capitalize on the demand for Christmas light installations, Shine Franchise presents an exciting avenue. 
A Shine Franchise offers the chance to start your own holiday lighting business, providing homes and businesses with stunning displays that spread holiday cheer. The franchise model simplifies the process of entering this market, guiding you through location selection, equipment purchase, training, operations, and marketing support.
Reasons to Choose a Holiday Lighting Franchise with Shine
Offset Seasonality

If you already run a seasonal business, adding holiday lighting can ensure a steady income stream year-round, keeping your employees engaged and generating revenue even during off-peak seasons.

Repeat Customers

Once you've installed lights on a property, the opportunity for repeat business is substantial. Clients often return year after year to have their festive displays reimagined.

Community Involvement

Engage with your local community by participating in tree-lighting ceremonies and special events. Contribute to the holiday spirit and create a positive reputation for your franchise.

Quality Products and Vendors

Shine Franchise has already established connections with top vendors, guaranteeing access to quality products and negotiated pricing.

National Training

Comprehensive training is provided to all franchise owners and their teams, ensuring you have the skills and expertise to create captivating holiday light displays.
Diversified Revenue Streams
Investing in a Shine Franchise doesn't limit you to Christmas light installations alone. You can expand your service offerings by tapping into a range of related services, including gutter cleaning, pressure washing, window cleaning, and outdoor and landscape lighting. 
You can even leverage your Christmas Lighting Business into other lighting services by adding additional services that complement existing ones. Your business can offer bistro lighting, outdoor lighting for decks, patios, and pool areas, and even add lighting to businesses such as string lights for their patios and event spaces. This diversity not only enhances your revenue potential, but also positions your franchise as a comprehensive home service provider.
Getting Started with A Shine Holiday Lighting Franchise
Launching your own holiday lighting franchise with Shine is designed to be efficient and hassle-free. With the support of the Shine Franchise team, you can open your franchise in as little as 8 weeks. 
We provide training, onboarding, marketing tools, and ongoing assistance to guide you through every aspect of your business journey.
In a world where homes and businesses are seeking to create memorable experiences, Christmas light installations have become a high-demand service. Shine Franchise offers a golden opportunity to step into this thriving market, armed with training, support, and a proven business model. 
As you brighten up the holiday season for your clients, you'll also illuminate your path toward entrepreneurial success. Take the first step today and embark on a journey to own a business that brings joy and magic to the festive season. 
Ready to take the first step towards a Shine franchise ownership in your community? Contact a Shine Franchise Development team member today!