How Shine Franchise Owners Can Maximize Multiple Revenue Paths and Build Strong Customer Relationships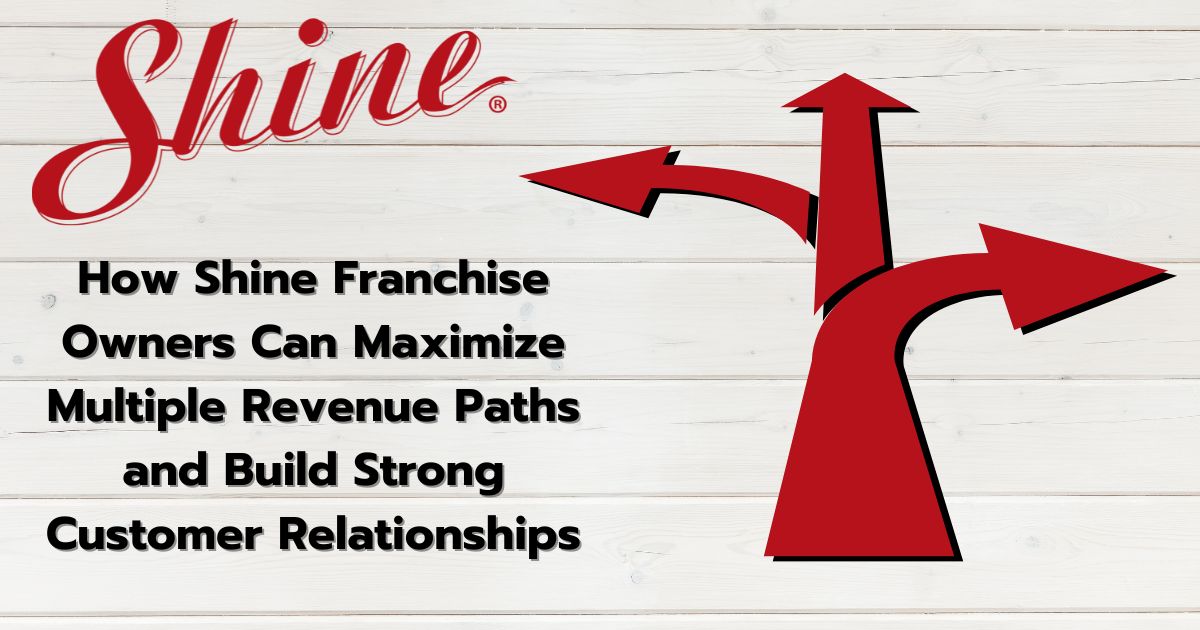 One of the main benefits of owning a Shine franchise is its year-round revenue opportunities and options to maximize multiple revenue paths. Unlike many seasonal home service businesses that must contend with an off season, there is the opportunity to offer services all year round with Shine. And most of our services are requested at least annually, so you'll have customers returning for more.
Shine owners have the option the choose the services that make sense for their location. Another advantage of a Shine home service franchise is that Shine's group of services increases customer loyalty and relationships. You will be their one-stop provider that keeps their home looking its best.
Here are tips Shine owners can use to maximize revenue opportunities, solidify customer relationships, and provide outstanding service.
Repeat Business
Most home and building owners have their windows washed, gutters cleaned, and install holiday decorations annually. And this is how Shine's CRM, well… shines. Provided to all our owners, Shine's CRM helps you track your customer's past services so you can reach out to them when it's time for their routine service. It makes it easy to stay in touch with your customers and remind them it's time to shine!
New Services
When you're on the job and face to face with a customer is the perfect opportunity to suggest new services that would benefit their property. While you're onsite for holiday light installation, have your team inspect the home to see if they could use gutter cleaning, light fixture cleaning, power washing, or roof washing. If you're cleaning their windows in the summer, suggest they get a jump on scheduling their holiday lighting installation, and vice versa. The customer will appreciate your attention to detail and offering new ideas to improve their home. Services can be booked from the mobile app, making it fast and straightforward to schedule them for their next appointment.
Upsell Complimentary Services
There's a good reason McDonald's started asking customers, "Do you want fries with that?". Upselling is one of the fastest ways to grow your business. Generating more revenue from current customers is easier and more cost-effective than finding new customers. Shine's group of services gives franchise owners several opportunities to upsell. Here are a few suggestions of complimentary services that pair well together:
Window cleaning, screen cleaning, light fixture cleaning, roof washing
Holiday lighting, light fixture cleaning
House washing, power washing, roof washing, gutter cleaning
When quoting customers, you can include additional service options as add-ons.
Plan Ahead
If you want to maximize your revenue opportunities, take the time to plan. Get in the habit of looking ahead at upcoming appointments, and plan account growth and retention activities with your crew leaders before they head out to the job. Consider strategies for upselling and additional services when you're providing quotes. Make this part of your standard procedure. And take advantage of Shine's powerful CRM tool to help you stay on task with new and repeat customer opportunities.
The primary route to entry with a Shine franchise will, more often than not, be window cleaning or holiday lighting installation. And while those services alone will keep your franchise busy, there is much more you can offer customers to help them take better care of their homes and grow your business faster.
Shine franchise owners gain the benefits of a quick and easy start-up, a scalable business plan, and the ability to service customers year-round. To learn more about Shine, download our franchise kit and connect with a franchise development team member today!
More Blog Posts
from Shine