How to Recognize a Professional Holiday Lighting Service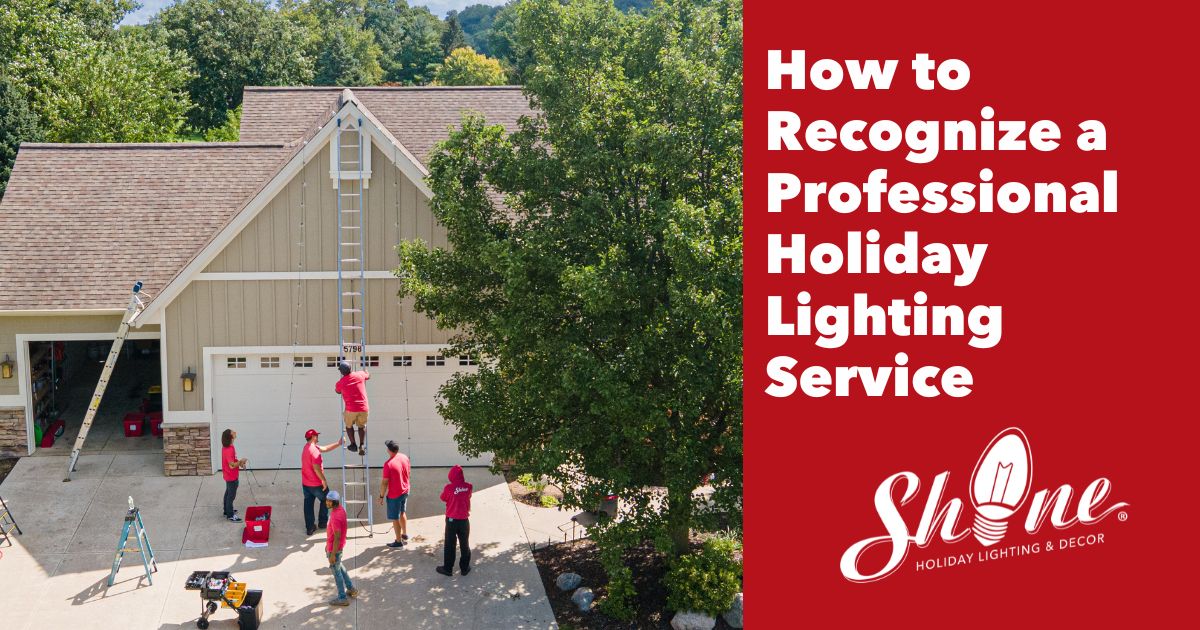 The holiday season is a time of joy and celebration, and nothing sets the mood quite like beautifully installed holiday lights. But how can you be sure that the team decorating your home or business is truly professional and committed to delivering the best holiday lighting experience?
Look no further than Shine, the holiday lighting franchise that stands out from the rest. We will dive into what distinguishes Shine from the competition, including extensive training, attention to detail, and unwavering commitment to exceptional customer service.
Extensive Training
One of the surefire ways to determine whether you're working with professionals is to examine their training programs. Shine goes above and beyond in this regard, ensuring that their technicians are well-prepared to create breathtaking holiday lighting displays. Each team member undergoes detailed training, equipping them with the knowledge and skills needed to transform your property into a festive wonderland.
Shine's training program covers everything from the technical aspects of installing holiday lights to mastering the art of design. This comprehensive approach ensures that every detail, no matter how small, is taken care of. When you see perfectly centered peak bulbs and exquisitely fluffed wreaths and garlands, you can be confident that Shine's technicians are true experts in their craft.
Attention to Detail
When it comes to holiday lighting, it's the little things that make a big difference. Professionalism shines through in the details, and Shine understands this better than anyone. They take great pride in their work, and it shows in the way they pay attention to even the smallest aspects of a customer's holiday lighting display.
Every bulb is perfectly aligned and centered, creating a visually stunning effect because Shine's technicians inspect each element of the holiday lighting installation, ensuring that it meets the highest standards of quality. It's this unwavering dedication to detail that sets Shine apart as a top-tier Christmas light service franchise.
Exceptional Customer Service
Beyond technical expertise and attention to detail, exceptional customer service is at the heart of what makes Shine a standout holiday lighting franchise. From the first inquiry to the final inspection of the customer's holiday lighting, Shine's team is committed to delivering a seamless and enjoyable experience.
Why Choose Shine's Holiday Lighting Franchise?
If you're considering starting a holiday lighting business, Shine offers compelling reasons to start your own franchise in an available market with protected zip codes.
Offset Seasonality:
For those who own seasonal businesses, holiday lighting is an ideal add-on service to maintain cash flow throughout the year. Shine's franchise allows you to keep your employees working year-round.
Repeat Customers:
Once Shine's lights grace your home, the opportunity for repeat business is yours year after year. Their dedication to quality ensures that customers return for the same exceptional service.
Community Involvement:
Shine franchisees often participate in tree-lighting ceremonies and special events within their local communities, spreading the holiday spirit far and wide.
Quality Products and Vendors:
Shine has done the research and negotiation to provide franchise owners with access to top-quality products and vendors.
National Training:
With Shine, you'll receive comprehensive training to become a holiday lighting expert. You'll be equipped to serve your customers with excellence and creativity.
Recommended by Bob Vila
Bob Vila has built a reputation for being the most trusted name in home improvement and repair, and he recognized Shine as the best company for outdoor and holiday lighting.
Read more about why Shine is ranked as a top outdoor lighting company!
Shine Bright from Day One: Starting Your Holiday Lighting Franchise with Shine
As the holiday season approaches, the demand for holiday lighting services increases. Shine offers a solution that combines professionalism, exceptional service, and artistic design for anyone interested in starting their own franchise endeavor. 
Launching your own holiday lighting franchise with Shine is designed to be efficient and hassle-free. With the support of the Shine Franchise team, you can open your franchise in as little as 8 weeks. Shine Franchise offers a golden opportunity to step into this thriving market, armed with training, support, and a proven business model. 
As you brighten up the holiday season for your clients, you'll also illuminate your path toward entrepreneurial success. Take the first step today and embark on a journey to own a business that brings joy and magic to the festive season.
Ready to take the first step towards a Shine franchise ownership in your community? Contact a Shine Franchise Development team member today!