This Couple Found Their Perfect Franchise in Shine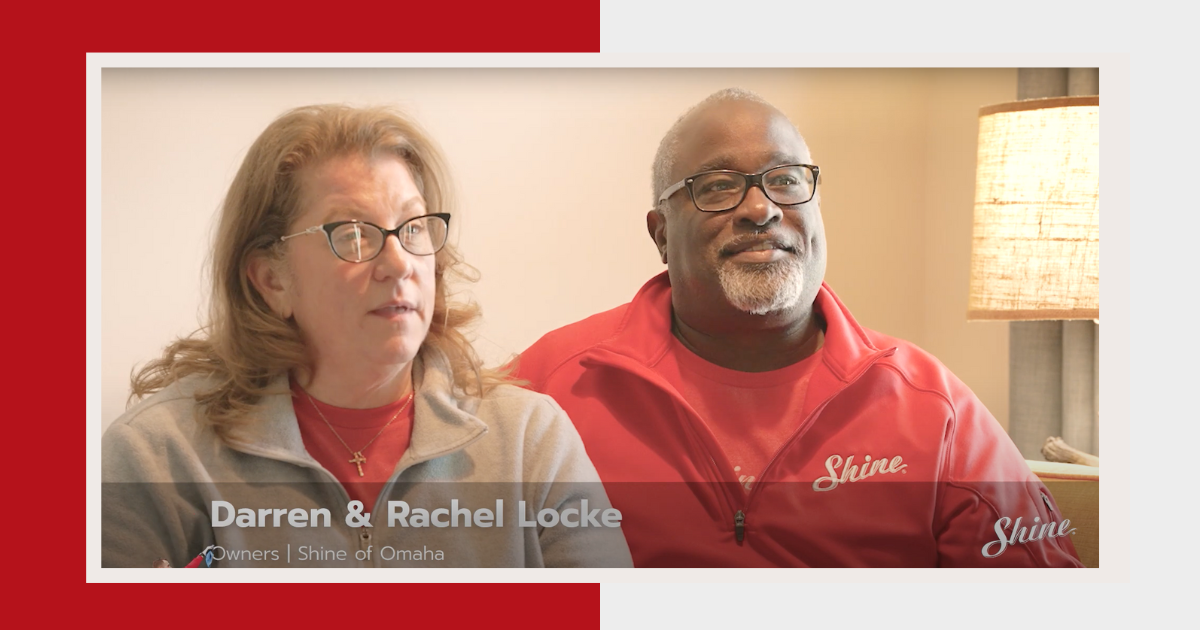 After an impressive career in insurance, Darren Locke looked forward to an early retirement to start his own business. Darren and his wife, Rachel, researched over 30 different franchises, but they kept coming back to Shine – a top cleaning service franchise. What impressed them most? Simple: the culture, people, and experience of the Shine team.
A Leader in Professionalism in the Home Services Industry
Darren and Rachel had Shine at the top of their list because of the culture, support for owners, integrity and brand. Part of that strong brand is being one of the most professional home service brands in the industry. Neighbors and businesses take a second look when a Shine van is parked out front. Everyone can see that Shine takes pride in making sure even the smallest details don't go unnoticed.
A big goal for Darren and Rachel when they started their new business venture was to present professionalism at all times. Whether it's on the phone, giving a quote or on the job, Shine goes above and beyond to provide the best customer service possible. This high standard of service sets Shine apart from our competitors. Darren has found more often than not customers will tell him they can see why the business is named Shine.
Opportunity for Growth
The key trait that Darren and Rachel were looking for in their new franchise was the opportunity for growth. Thanks to Shine's business model, it's easy for new business owners to get started and expand at their own pace.
With a variety of services that offer year-round cash flow options, every entrepreneur has the chance to expand and scale their business. The opportunity to scale as quickly as possible is provided to owners through leadership's ongoing development of new service offerings and the creation of marketing strategies to support all services for every location.
For some, starting a business can be overwhelming. We've developed a strategy to assist franchise owners in establishing their new location, increasing awareness of it, and generating leads swiftly based on our decades of experience developing Shine in the industry and launching over 50 franchise locations.
Shine's Culture of Caring
When it comes down to why Shine's culture is the right fit for Darren and Rachel, they start with family. 
Shine's business hours allow for

family time on the weekends

.

Shine treats every customer like they are

part of the team

.

The

Shine Family

is a group of like-minded people all helping each other to reach their goals.
The heart of our Shine Brand is service to others, excellence and supporting each other. From headquarters support, guidance, expertise, leadership and marketing – everyone on the team fits this culture. We invest in our Shine community of owners, employees as well as the communities you're in. And, just like any franchise candidate is looking for a good cultural fit with their goals, so are we.
Darren and Rachel fit our culture well because they excel at doing such an exceptional job that they create customers for life. Not to mention, their most favorite jobs are the ones they can offer to others who need it more than others. A phenomenal example of one of our core values–serving.
Find What You're Looking for in a Shine Franchise
Shine Franchise makes ongoing investments in training, growth, and support to provide franchise owners with all they need to be successful. You will not find a more devoted, supportive community to assist you to expand your business and address any issues you may experience, from monthly owners calls to marketing meetings, a comprehensive online intranet, a franchise-wide Slack channel, and direct access to anyone in any Shine.
Ready to be the next Darren and Rachel? Take the first step towards a Shine franchise ownership. We'd love to start a conversation with you. Fill out the form on our Contact Page and download the franchise kit!