Women-Owned Businesses are Thriving | Meet Cami Wilson of Shine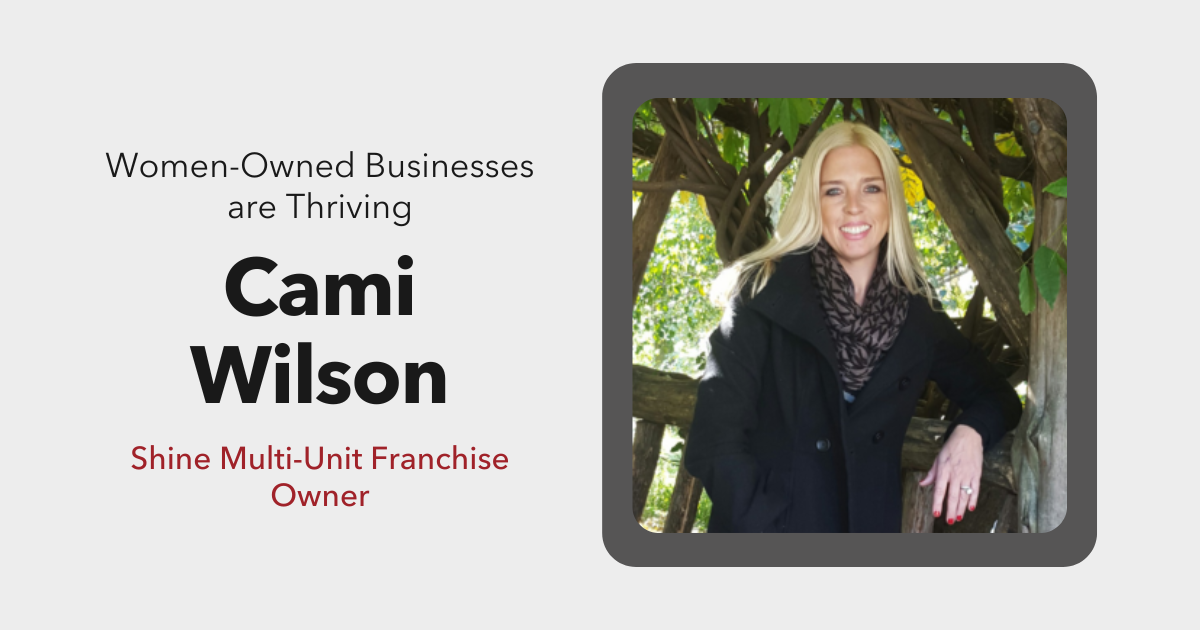 Ladies – are you ready to leave your mark on your community as a business owner? Lately, more and more women are courageously taking their first steps to build their own businesses. As women-owned businesses are growing, so are franchises that give business owners the support and business model to achieve their goals.
Before opening her first Shine location in Austin, Texas, in 2017, Cami Wilson was a stay-at-home mom, raising five boys over twenty-one years. As her boys grew up, she sought a career that would get her back in the workforce and give her financial freedom. Cami started her opportunity with Shine so she could build a business that worked for her and her family.
Businesses Operated by Women are Growing
According to Entrepreneur, 50 years ago in 1972, the U.S. Census Bureau began tracking female entrepreneurship, which at the time was estimated to include some 400,000 businesses owned by women. The latest statistics reveal a stunning increase to 13 million female-owned businesses. On top of that, it's estimated that women account for approximately 31% of all small businesses and franchise ownership in the U.S. A third of these have successfully owned and operated their businesses for 10 years or longer.
All the statistics support that the opportunities for women who want to start their own business with a franchise are ripe for the taking. Franchises offer a degree of comfort that other businesses using the same formula have seen success. The right passion and energy from a businesswoman is all that it takes to start building a legacy.
Outstanding Company Cultures Built by Women
A key factor to successful women-owned businesses is the extra effort put into creating a desirable company culture. A major factor in Cami Wilson's decision to start her first Shine was the existing company culture she could expand on. At Shine, our "culture" is a caring, supporting family that places a higher value on others than on ourselves.
Cami started with Shine's culture and made it her own – being a light to everyone by supporting her employees, customers, and community. You can see this most when a mistake is made at a job site. Cami and her crew see mistakes as opportunities to make things right and go above and beyond for their customers. It's the best way to create a customer for life and shows that Shine cares about the quality of their work.
At Shine, employees are able to work all year round – unlike many other seasonal franchises. Cami and her team enjoy taking advantage of Shine's Holiday Lighting Installation Service. It's fun work that yields beautiful results that brings a smile to customers' faces. Not to mention, it means keeping top talent on the payroll and less rehiring every season.
Women are Enjoying Franchise Ownership More Than Men
Michelle Rowan, President, and COO of Franchise Business Review says, "Franchising is a fantastic option for women to be their own boss, and in many cases, find the flexibility they desire that's not available elsewhere." Between the flexibility and built-in support system, women are creating a lifestyle that suits them. Franchising allows owners to find financial freedom while following their passion inside and outside of work.
It was an easy decision for Cami Wilson to expand in 2021 to her new Shine location in Southlake, Texas. In her own words, "scaling the business just made sense. It allowed our family more financial freedom and let us shine our light even further." Even more recently, in August 2022, Cami expanded again into Plano Frisco!
Shine makes it easy to get a franchise up and running in as little as 90-days. All equipment is provided; the only employee requirements are a two-person crew to start. You can expand your business at your own pace.
Why Purchase a Shine Franchise?
Cami expressed that one of the best things about Shine is that she could start her own business that reflected her personal beliefs and not be afraid to do so.
Shine is a leading home services brand that provides window cleaning, power washing, gutter cleaning, landscape lighting, and holiday lighting services to residential and commercial customers.
Are you excited about the prospect of starting your own business in the home services industry? Reach out to one of our experienced team members to learn more today!
More Blog Posts
from Shine