Easily Attract and Retain Top Employee Talent with Shine's Business Model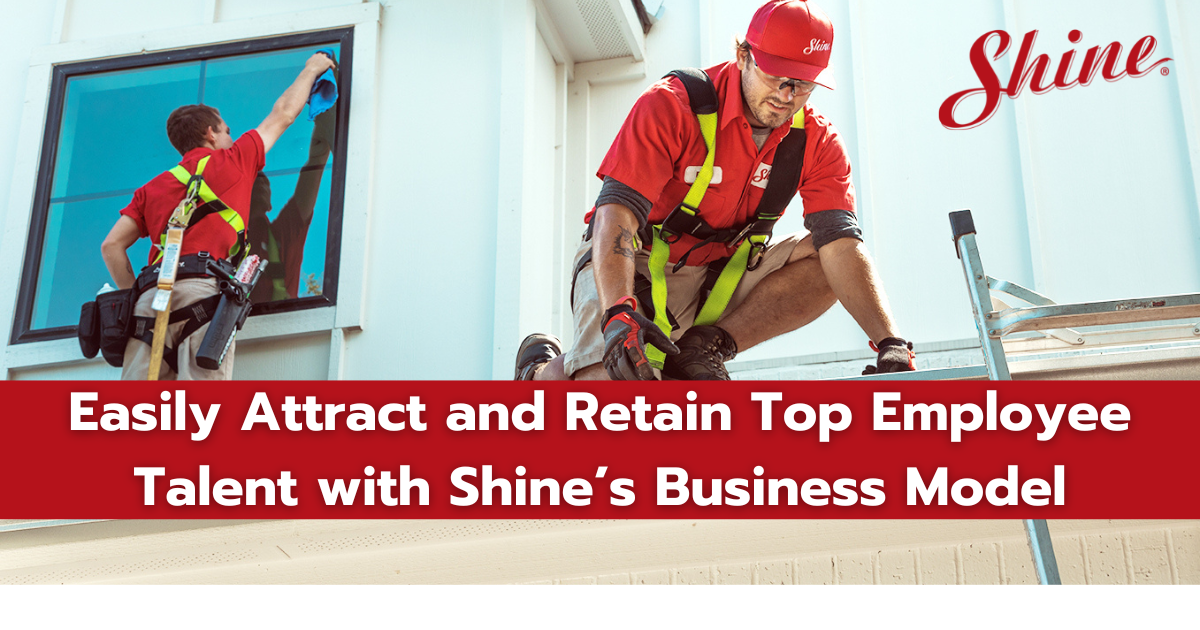 Exciting job opportunities combined with Shine's recruiting and hiring tools make it easy for Shine franchisees to attract and retain top talent, even in today's tough job market.
Hiring is never an easy task, and in the wake of the COVID-19 pandemic, finding employees has become even more daunting. According to recent labor statistics, there are currently 11 million job openings, which equates to roughly two jobs for every person looking for one. What this means for employers is that it's more important than ever that your job opportunity stands out to potential employees.
Shine is ahead of the curve in hiring and recruiting. Shine provides in-demand residential and commercial cleaning and brightening services, including window cleaning, gutter cleaning, pressure washing, roof washing, and holiday lighting installation. A position at Shine is attractive to potential team members and the tools and resources available to franchise owners make the hiring process more manageable.
Jobs Employees Want
Shine understands the importance dedicated employees make to the success of your franchise. We also understand how important it is to offer appealing job opportunities that promote engagement and keep employees happy. Shine makes it easy for you to attract and retain employees with these job benefits.
     Employee Culture
At Shine, our "culture" is a caring, supportive family that places a higher value on others than on ourselves. Every day, employees see the positive impact they make and the smile on customers' faces after each job.
     Upward Mobility
Did you know that many new Shine franchises are opened by employees that started as Shine technicians? As you grow your Shine franchise, your employees can learn and grow alongside you, moving from technician to management level to owning a Shine location one day. You can help the next generation of home service industry entrepreneurs get their start.
     Year-Round Employment
Many residential and commercial service jobs are seasonal, resulting in substantial demand swings throughout the year. This often requires organizations to lay off employees in the down season. Shine's year-round business model ensures you can keep your employees on staff and avoid the pain of constantly rehiring and training new employees.
     Flexible, Exciting Work
Shine employees aren't stuck behind a desk or in a stuffy office. They work mainly outdoors, and the location is constantly changing. The variety of tasks, from window cleaning to holiday lighting design and installation, prevents monotony. And they gain the benefits of daily physical activity.
Easier Recruiting and Hiring
While recruiting the right talent is crucial to your success, it shouldn't be a laborious process that takes you away from your other business operations. Shine provides all franchisees with a suite of tools that make it easy to recruit, hire and train your team members.
     Document Management System
From sample job descriptions to onboarding paperwork and training videos, Shine's document management system ensures you have everything you need to recruit, hire, and train your employees. Best of all, you can be confident the information is accurate and up to date.
     Recruiting Platform
Shine's recruiting platform allows you to create job postings and deploy them over multiple job posting sites simultaneously. As candidates apply, you can sort their applications, review resumes, and invite them to an interview with one click.
     Internal Communication System
Shine's franchise team is always available to help you. And using our internal communication platform, you can chat instantly with corporate support team members or other franchisees. Sometimes, the best advice comes from your fellow Shine franchisees!
People are at the heart of Shine's mission. We can only serve our customers if we take care of our employees. The many benefits Shine offers employees, combined with the recruiting and hiring tools for Shine franchisees, lessen the burden of finding and retaining great talent. It's just one of the many advantages of owning a Shine franchise.
To learn more about owning your own Shine franchise, download our franchise tool kit and speak with a franchise development team member today!