How Shine Empowers Franchisees through Digital Advertising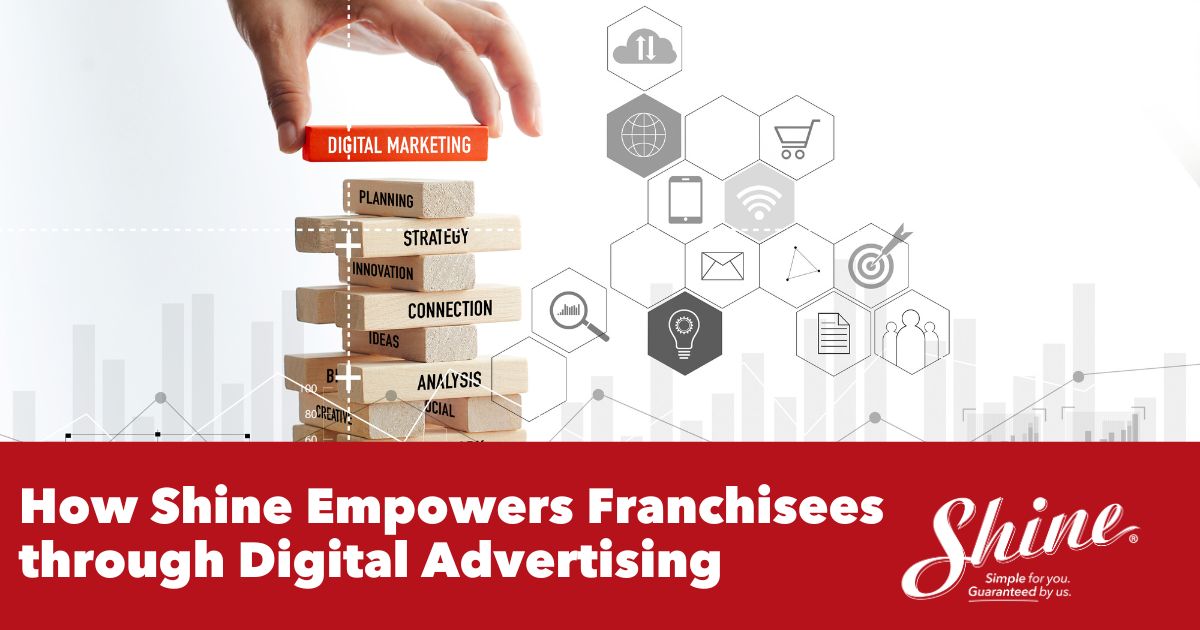 At Shine, we believe that when you join our franchise, you're not just starting a business; you're becoming a vital part of our team. We take immense pride in creating a culture that fosters personal and professional growth for our franchisees, all while delivering exceptional service to our valued customers. 
Today, we are diving into what Shine does to support our franchisees through digital advertising and what the industry data shows. 
Shine's Unwavering Commitment to Franchisee Success
From day one, Shine considers our franchisees as integral members of our close-knit team. We've designed our culture to ensure that you have the guidance and resources needed to reach your goals. 
Here's a closer look at how Shine supports our franchisees:
Cutting-Edge Technology Solutions: We equip our franchise owners with a suite of advanced technology solutions designed to streamline operations and drive business growth. These tools also offer flexibility in managing and operating your business.
Scheduling and Customer Management Software:

We provide state-of-the-art Customer Relationship Management (CRM) software and mobile apps, making appointment scheduling and customer management a breeze.

Digital Marketing Platform:

In today's digital age, effective marketing is essential for business success. Shine franchisees benefit from a digital marketing platform that helps them reach their target audience more efficiently.

Online Training:

Continuous learning is vital in any successful business. Shine offers online training resources to keep franchisees informed about industry best practices and well-equipped for success.

Digital Document Library:

Access to essential documents and resources is simplified through Shine's digital document library, ensuring franchisees have the information they need at their fingertips.

Online Review & Customer Survey Platforms:

Reputation management is crucial in today's digital landscape. Shine franchisees can leverage online review and customer survey platforms to gather valuable feedback and maintain a positive online presence.
Support from RED66 Marketing: We understand that starting a business can be challenging. That's why we collaborate with RED66 Marketing, a premier digital marketing agency. They provide our franchisees with various marketing resources, including social media templates, signage, paid advertising, and more. This assistance ensures that franchisees have access to the tools needed to promote their businesses effectively.
Digital Advertising Trends: Empowering Our Franchisees
Digital advertising is a game-changer for our franchisees. It empowers them with insights into keywords and target audiences, enabling informed decisions and refined marketing strategies for optimal results:
Keyword Insights: Our franchisees gain valuable data on which keywords are driving traffic and conversions through digital advertising platforms. This information allows them to fine-tune their marketing campaigns and allocate resources effectively.
Audience Targeting: With digital advertising, our franchisees can precisely target their ideal customer demographics. This level of precision ensures that marketing efforts are reaching the right audience, resulting in higher ROI.
Data-Driven Decisions: Real-time data and analytics offered by digital advertising platforms enable our franchisees to make data-driven decisions. This approach allows them to adapt to changing market conditions and customer preferences, staying ahead of the competition.
Industry Data Highlights Shine's Success
While Shine's commitment to franchisee success is evident, industry data further reinforces the effectiveness of our strategies. Franchisees who embrace digital advertising and leverage our resources are poised for growth and profitability, making Shine a standout in the franchising industry.
Begin Your Franchisee Journey with Shine
As a Shine franchisee, you're not just embarking on a business venture; you're becoming part of our dedicated team that is eager to help you shine brightly in the world of entrepreneurship. With the power of digital advertising and the comprehensive support offered by Shine, your journey to success is set to be a remarkable one.
Become an integral member of your local community by launching your very own Shine window cleaning franchise. With Shine's straightforward and adaptable business model, you can be up and operational within merely eight weeks, enjoying a continuous revenue stream throughout the year. Embark on this venture with only a single van and a team of two employees.
At Shine, our franchises serve the community by providing window cleaning, pressure washing, gutter cleaning, holiday lighting & design as well as outdoor & landscape lighting services. By providing regular maintenance to homes and businesses, we can help prevent damage and keep the property's exterior in excellent condition.
Ready to take the first step towards a Shine franchise ownership in your community? Contact a Shine Franchise Development team member today!
More Blog Posts
from Shine