Why Service-Based Franchises are a Good Investment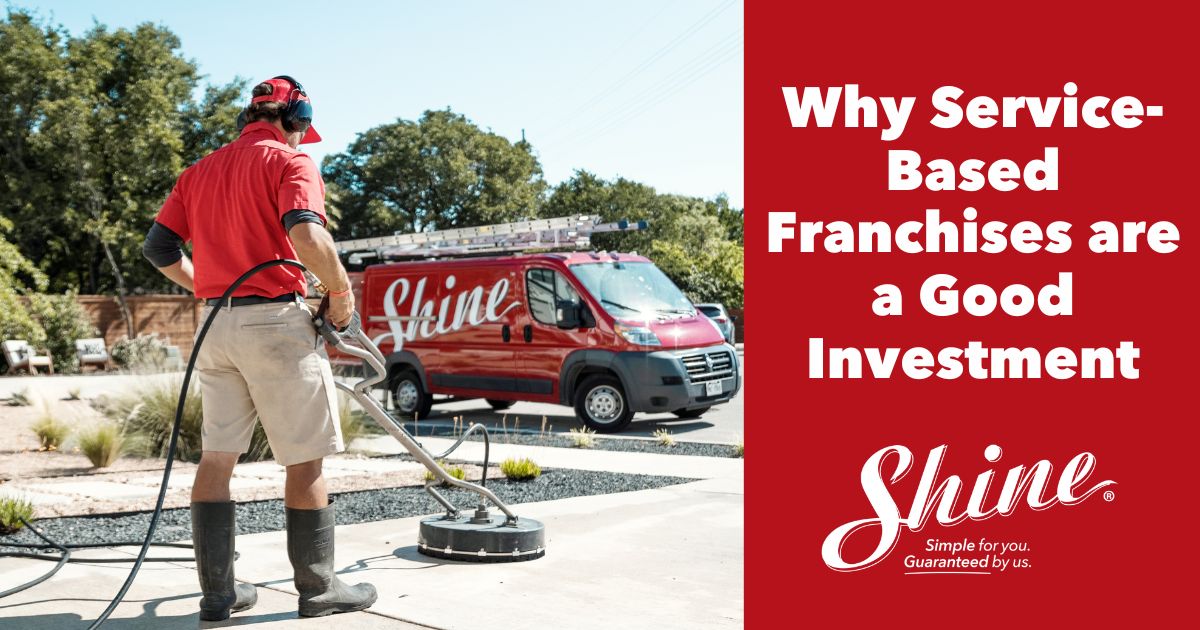 Entrepreneurs who seek stable and fulfilling opportunities may benefit from service-based franchises, like Shine. Service-based franchises provide guaranteed business, steady work even in tough times, and recession resistance.
Shine's franchise model demonstrates why service-based franchises make an excellent investment. Here are some compelling reasons why investing in a service-based franchise like Shine can lead to financial success and personal satisfaction.
Simple and Scalable
One of the key advantages of service-based franchises is their simplicity and scalability. Shine doesn't require large storefronts or expensive machines to manage. We provide the equipment and a van, making it easy for franchise owners to get started. 
Low Entry Investment and Low Overhead
Service-based franchises often come with a low entry investment fee and low overhead costs, making it a unique opportunity to start and maintain a profitable business quickly. 
With fewer upfront expenses, you can focus on building and growing your business without the burden of high startup costs.
Year-Round Employee Utilization & Revenue Streams
In a service-based franchise like Shine, you won't have to worry about seasonal layoffs or slow periods. Thanks to offerings like holiday lighting services, you can keep your teams employed throughout all seasons, ensuring a steady cash flow, even during the winter months. This stability is crucial for both franchise owners and their employees.
Year-Round Services Homeowners Need
Service-based franchises like Shine provide essential services that homeowners and businesses need year-round. From spring cleaning to the summer and winter months, these services are required to keep homes and commercial properties looking their best. 
Shine offers services like window cleaning, pressure washing, gutter cleaning, and even holiday lighting, ensuring a steady demand throughout the year.
Industry-Leading Support and Training
Successful service-based franchises, like Shine, provide comprehensive support and training to their franchisees. When you sign your franchise agreement, you'll gain access to valuable tools and extensive experience. 
The Shine team will be there every step of the way, offering marketing resources, digital support, education, and motivation to ensure your success.
Value-Driven Team Culture
Service-based franchises often foster a culture of teamwork and customer satisfaction. At Shine, our culture emphasizes a caring and supportive team that places a higher value on others than on themselves.
As a franchise owner, you get to witness the impact you make on your employees and the smiles you bring to your customers' faces after each job, making it a truly fulfilling endeavor.
Begin Your Shine Investment Today
Shine's franchise model showcases the advantages of choosing a service-based franchise. With an established brand, proven marketing success, ongoing training and support, and a variety of revenue streams, service-based franchises like Shine offer a well-rounded and recession-proof business opportunity.
The simplicity, low startup costs, year-round demand, and support makes Shine a compelling choice for aspiring entrepreneurs looking for a guaranteed business with the potential to thrive in any economic climate. 
At Shine, our franchises serve the community by providing window cleaning, pressure washing, gutter cleaning, holiday lighting & design as well as outdoor & landscape lighting services. Our commitment to providing consistent maintenance for homes and businesses helps prevent damage and ensures the exterior of properties remains in excellent condition.
Ready to take the first step towards a Shine franchise ownership in your community? Contact a Shine Franchise Development team member today!