How to Turn Your Seasonal Business into a Year-Round Revenue Stream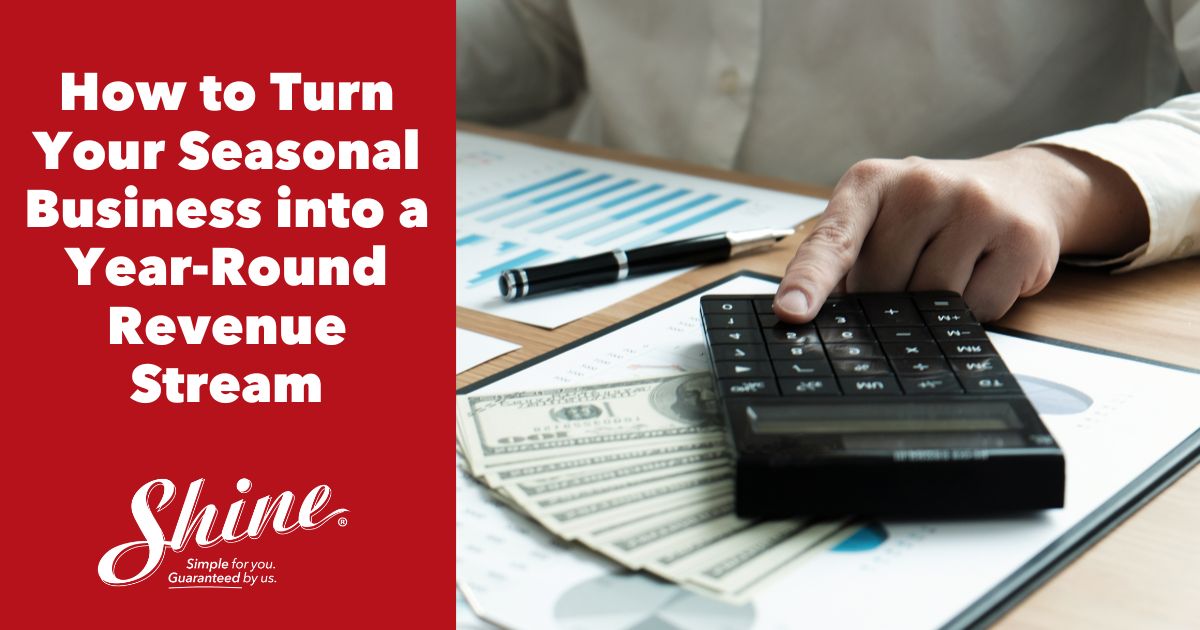 Running a seasonal business can be a challenge, especially when your income is heavily reliant on specific times of the year. But what if there was a way to transform your business into a year-round revenue stream?
The solution might be closer than you think. Shine Franchise offers a full suite of services that can help you maintain a steady cash flow throughout the entire year. In this blog, we will explore how you can leverage Shine's services to expand your business and break free from the constraints of seasonality.
1. Window Cleaning Franchise
One of Shine Franchise's core services is window cleaning. Windows get dirty year-round, whether from the pollen of spring, the dust of summer, or the grime that accumulates in the winter. Offering window cleaning as a service not only keeps your business relevant in all seasons but also gives you the opportunity to provide ongoing maintenance packages to customers, ensuring a steady stream of income.
2. Pressure Washing Franchise
Shine's pressure washing service is another year-round moneymaker. From driveways and decks in the summer to removing winter's dirt and salt stains, there is a constant demand for pressure washing services. This versatility ensures that you'll always have work, regardless of the season, allowing you to maintain your business's financial stability.
3. Outdoor Lighting Franchise
While outdoor lighting might not seem like a year-round service, it can be adapted for different occasions throughout the year. During the summer, you can offer landscape and pathway lighting services. In the fall, prepare homes for the holiday season with decorative lighting. In the winter, help homeowners keep their pathways and entrances safe with well-placed lighting. By diversifying your lighting offerings, you can provide year-round value to your customers and maintain steady revenue streams.
4. Gutter Cleaning Franchise
Gutter cleaning is a service that homeowners require consistently to prevent water damage to their properties. The demand for this service stays with the changing seasons. By offering gutter cleaning as part of your business, you can ensure that you have a constant flow of work throughout the year.
5. Holiday Christmas Lighting Franchise
Holiday lighting might be the most season-specific service offered by Shine Franchise, but it's a game-changer for maintaining steady income throughout the year. As the holiday season approaches, the demand for professional holiday lighting installation and removal services skyrockets. This surge in business during the winter months can help you offset any seasonal slowdowns you may have experienced in the past.
Initial Investment
Shine Franchise offers a low-cost entry investment, making it an attractive opportunity for those with an entrepreneurial spirit and dreams of running a successful business. With a scalable model and diversified year-round services, you can maximize your returns on this initial investment.
Year-Round Employee Utilization & Revenue Streams
One of the significant advantages of joining Shine Franchise is that you won't have to worry about seasonal layoffs or slow seasons. Thanks to Shine's holiday lighting service and the year-round demand for services like window cleaning, pressure washing, and gutter cleaning, you can keep your teams employed and maintain a steady cash flow even during the winter months.
Get Started With Shine
Shine Franchise offers a comprehensive suite of services that can help you turn your seasonal business into a year-round revenue machine. By offering window cleaning, pressure washing, outdoor lighting, gutter cleaning, and holiday lighting services, you can provide consistent value to homeowners and businesses throughout the year. 
This diversified approach ensures that you maintain a steady cash flow and avoid the financial uncertainties that often accompany seasonal businesses. If you're looking to transform your business and secure year-round income, Shine Franchise might just be the opportunity you've been waiting for.
Experience the benefits of a straightforward and flexible business model with a Shine Franchise. Within just eight weeks, you can be up and running, enjoying a steady income stream year-round. With just a single van and a team of two employees, you can embark on this rewarding journey.
At Shine, our franchises serve the community by providing window cleaning, pressure washing, gutter cleaning, holiday lighting & design as well as outdoor & landscape lighting services. Our commitment to providing consistent maintenance for homes and businesses helps prevent damage and ensures the exterior of properties remains in excellent condition.
Ready to take the first step towards a Shine franchise ownership in your community? Contact a Shine Franchise Development team member today!
More Blog Posts
from Shine