Meet Dual Franchisee George Crouch: Shine Holiday Lighting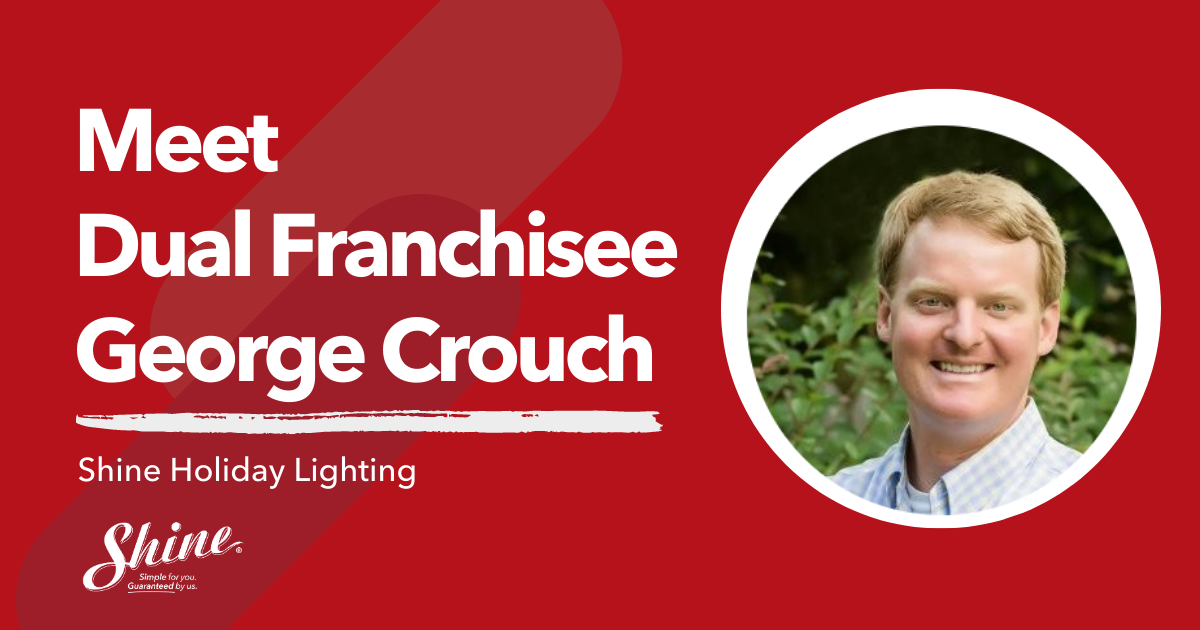 George Crouch was already a successful franchise owner, running a Mosquito Joe for eight years in South Carolina. However, his busy season only ran from March to November, leaving the other five months open. Looking for something to offset seasonality, George found Shine's holiday lighting franchise—and the rest was history.
Since George isn't new to the world of business ownership, Shine turned out to be the perfect fit for him. Shine's ramp-up, training, and support would help him get his business operations up and running quickly and efficiently. Now, he has all of the benefits of owning complementary businesses and zero downtime, which is exactly how he prefers it.
Sister Franchise Opportunity
Owning a seasonal business offers the flexibility to take some well-deserved time off or to find an additional source of income during the off-months. However, the most efficient route is to find a sister franchise. George found this in Shine Holiday Lighting, as his Mosquito Joe ownership and resources helped get his new franchise off the ground both quickly and efficiently.
Mosquito control services are one of the many sister franchises that complement Shine's Holiday Lighting Service. The other sister franchises include:
Landscaping
Pest Control
Pool Service
Junk Hauling
Grill Cleaning
And More…
Shine's Executive Business Model: Innovation Meets Profitability
Starting another business is usually a daunting task. However, George knew that Shine had the experience to get his business up and running quickly.
Shine's exceptional support in marketing, hiring, and training allows him to take advantage of Shine's executive business model. Now, George is able to offer all of Shine's services year-round, while the holiday lighting service creates a consistent cash flow he didn't have previously with his seasonal franchise.
Shine's unique business model allows George to manage what matters most so that he can spend precious time managing both businesses.
Shine Adds More Lighting Services to Business Model
To continue making the Shine business model as profitable as possible, we're always looking for relevant, new, and innovative service offerings to add. One of the ways we achieve this is by working closely with owners to alleviate pain points.
One of the biggest reasons George decided to ultimately move forward with a Shine Franchise was knowing that Shine was moving toward landscape lighting design and installation. When this new service was added earlier this year, George was thrilled to add this to his business' product offering.
Prime time to establish a holiday lighting service is during the summer allowing you to be available to your customers for immediate installation in the fall. We make this seemingly impossible feat simple, with a low-overhead, quick start-up, and an easy-to-scale business model.
Whether you're looking to complement your current home service business with holiday lighting installation, or are ready to start from the ground up, our franchise team is here to help you every step of the way.
It's our mission to give every owner the support and tools they need to feel confident in their business plan. In fact, most Shine franchise owners are up and running within 45-days!
Learn more about this exciting opportunity with Shine, and bring more cheer to your community this holiday season with holiday lighting services.
More Blog Posts
from Shine