Owning a Business That Doesn't Own You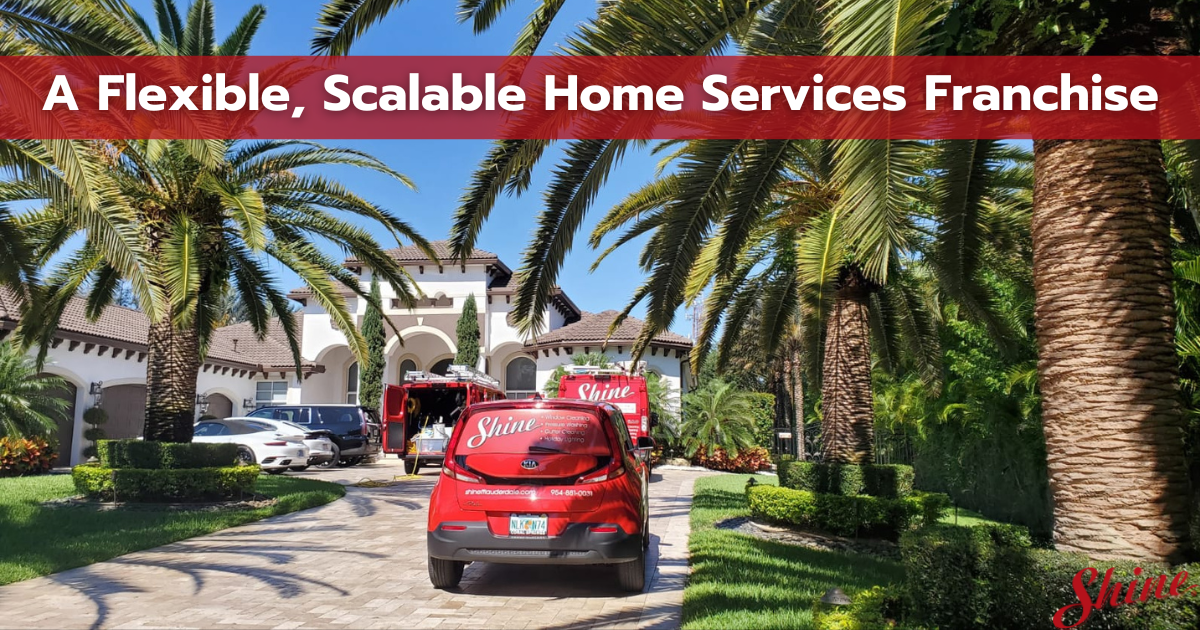 How to Select a Franchise That Offers Owners Ultimate Flexibility
There has been a substantial shift in the way we work. Between 2019 and 2021, the number of people primarily working from home tripled from 5.7% (roughly 9 million people) to 17.9% (27.6 million people), according to the U.S. Census Bureau. Remote work eliminates commute time, reduces absenteeism, increases productivity, saves time and money, and offers more flexibility and a better work-life balance.
Franchise Ownership & Flexibility
Business ownership is an attractive means to control where and how you work. But the dream of entrepreneurship can quickly become a nightmare when you find yourself working nights, weekends, and holidays. For many entrepreneurs and small business owners, a forty-hour workweek is a myth.
Franchise ownership gives entrepreneurs the benefits of owning their own business without having to endure many of the challenges of a start-up. This can free up your time and lower your risk, but you must take a hard look at how the business operates to understand where you'll spend your time and how much flexibility you'll have.
To fully understand the flexibility you'll gain through franchise ownership, you must answer these three questions about the franchise opportunity.
What are the franchise location requirements?
Many franchises require you to operate out of a specific type of building with a distinct appearance and even a unique atmosphere – such as a car wash, a fast-food restaurant, or a health club. If the business depends on a brick-and-mortar location, chances are that is where you'll be spending most of your time.
More and more home-based franchise opportunities have emerged in recent years to support the trend toward remote work. Franchise Business Review defines a home-based franchise as the opportunity to operate the business from a home office, mobile office, or other location outside a traditional storefront. Home-based franchises balance the ability to work from multiple locations with the benefits of owning your own business.
When does the work take place?
If you're opening a business that caters to consumers, you may be looking at 10 to 12-hour days or longer. Some fast-food restaurants open at dawn and don't close until after midnight. Service-based businesses such as salons and spas, gyms, car washes, restaurants, or retail stores are expected to be open in the evenings and on weekends. If you need to be on location when the business is open, chances are you'll also be working most evenings and weekends.
Franchises that operate during the traditional workday or online are your best bet for more flexible work hours. Home services and professional services are most likely to adhere to an 8a -5p Monday – Friday schedule.
What tools are available to help me manage my business?
So, you've found a franchise opportunity that offers location flexibility and regular working hours. Excellent. Now you must understand how empowered you'll be by your franchise partner to make the opportunity a success. They may promise flexibility and remote work, but if the business plan and the technology tools don't support the method, you'll either invest your own money or work extra. To be truly flexible, you should be able to run most of your business from any location with internet access.
Many franchisees are owner-operators. This means that they are personally involved in running the business, and their level of commitment is directly tied to their franchises' success. If you want to own a business that doesn't own you, consider a franchise business that truly offers you flexibility as an owner.
Shine Offers Ultimate Flexibility
Shine Window Care provides a complete suite of in-demand residential and commercial cleaning and brightening services, including window cleaning, holiday lighting, power washing, gutter cleaning, and landscape lighting. This offering provides for upselling multiple services, repeat customers, and year-round revenue streams.
Shine offers a low-cost franchise opportunity that gives you the space you need to build the lifestyle you want and achieve independence in the thriving home services industry. There are no large storefronts or expensive machines to manage, and most Shine locations operate on a standard Monday – Friday work schedule. We provide the equipment and van – all you need to do is to hire two crew members and expand from there. You're provided technology solutions to streamline operations, grow your business, and give you flexibility in how and where you work. As a BDM (business development manager)/owner, you have the option to manage the business and let your crew do the washing.
To learn more about a franchise opportunity with Shine, start here.
More Blog Posts
from Shine