Why Business-Minded Individuals Choose Franchises Over Launching a Startup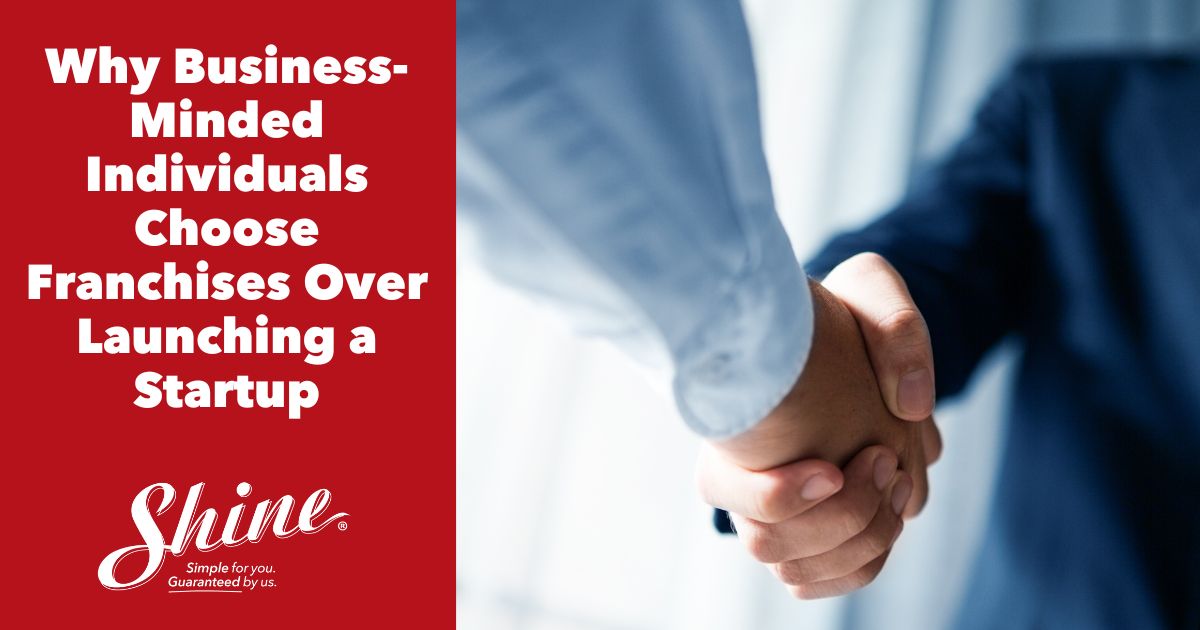 According to the Small Business Administration, nearly 20% of startups fail within the first year, and over 50% close within five years. The odds are stacked against entrepreneurs who build a business from scratch. Meanwhile, franchise businesses boast much higher survival rates thanks to their proven business models. A five-year study by the franchise consulting firm FranNet found that 92% of their franchise placements were still in business after two years, and 85% were still in business after five years.
With franchising, entrepreneurs can capitalize on an established brand, validated systems, and ongoing support to significantly increase their chances of success, provided they select the right franchise. Not all franchises are created equally – choosing one with a proven track record and robust systems in place, such as Shine Window Cleaning, is essential. For business-minded individuals, aligning with a reputable and experienced franchise like Shine offers a lower-risk pathway to owning and operating a business compared to the uncertainty and complexity of launching an independent startup. Shine's decade-plus history and low-investment, scalable franchise model give franchisees the keys to succeed in the exterior excellence business.
Franchises Offer an Established Brand and Validated Business Model
One of the biggest advantages of franchising is leveraging an established brand name and products and services that have already proven successful. Entrepreneurs must build awareness and demand for their brand from scratch when they launch a startup. And there are no guarantees consumers will respond positively. With a franchise like Shine, brand recognition and reputation exist in the marketplace. They also benefit from franchisors who have developed and tested effective business operating systems, especially in a franchise model that puts culture and teamwork first.
Franchisors Provide Ongoing Training & Support
One of the most valuable assets of joining a franchise system is the ongoing training and support, especially in crucial areas like marketing, operations, and technology. For example, Shine Window Cleaning provides franchisees with two weeks of initial training, operations guidance, and ongoing support through meetings, online resources, and remote coaching. The Shine team makes site visits and is available for phone consultations to assist franchisees with marketing, operations, and maximizing profitability. In addition, Shine promotes a team culture amongst its owners, gathering for training and conferences to share ideas and network. This type of hands-on guidance from experienced franchisors like Shine maximizes franchisees' chances of success compared to independent startups without such assistance.
Franchises Offer Cost and Financial Predictability
Joining a franchise like Shine can be a cost-effective pathway to business ownership. While startups deal with fluctuating revenues and unpredictable costs as they refine their model, Shine offers a lower initial investment than many other franchises that includes everything to get started: a van, equipment, training, and support. With a starting team of just two employees, new franchisees can begin generating revenue quickly while keeping overhead costs low. Shine's scalable model allows franchisees to grow their customer base and add additional vans, equipment, and employees seamlessly as operations ramp up. Shine provides a solution to get a proven, in-demand business up and running, allowing franchisees to focus on execution and expansion rather than experimenting with unproven strategies.
For entrepreneurs interested in owning their own business, joining a franchise like Shine offers a proven pathway to success. With the power of an established brand, proven startup model, and ongoing training and support, Shine franchisees gain a significant head start that boosts their chances of profitability and longevity. The lower risks and operational efficiencies of franchising allow business-minded individuals to focus on excelling in operations rather than experimenting with unproven ideas.
With a decade of experience and satisfied franchisees, Shine is a smart choice for those looking to launch their own scalable venture with less risk and maximum reward. The key is conducting thorough research to find the ideal franchise opportunity, leveraging franchisor expertise, and maintaining operational excellence. By picking a winner like Shine, franchisees can turn their entrepreneurial aspirations into reality.
Get started by downloading a franchise kit today!
Sources: