Entrepreneurial-Minded Shine Owners Expand to Multi-Unit Franchise Opportunities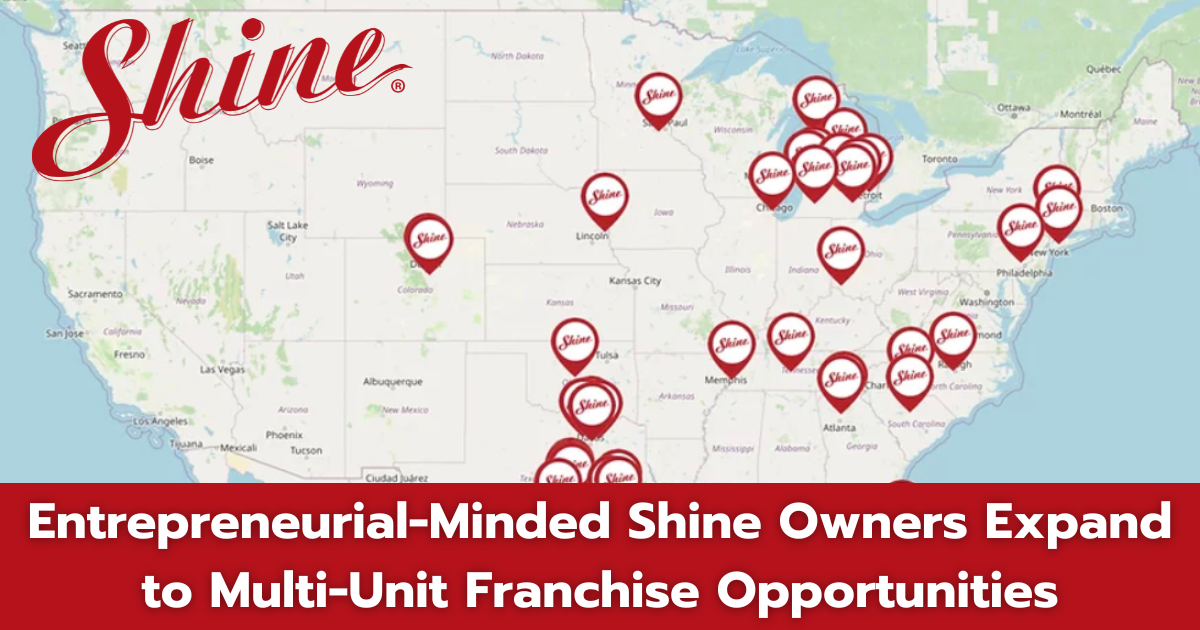 Holland, Michigan – Shine Window Cleaning announces the opening of 3 new locations in the last three months with new franchises and existing owners becoming multi-unit franchise owners.
Shine of Long Island (in Nassau County) owner Don Fahrbach recently expanded to serve Eastern Suffolk County, NY. Shine of Fenton, MI is the second location for owner Mark Haskin, who also owns Shine of Midland, MI. The organization also welcomed Grosse Pointe, MI, as a new location with new owners Steve and Kelly Lacher early in the summer.
Shine's straightforward, scalable business model makes it simple for franchisees to open a Shine location and grow from there. Shine owners can quickly expand their businesses with multiple locations, an ongoing trend in the franchise industry. According to FRANdata, a franchise industry researcher, 53 percent of franchisees operate at least two units, and many operate dozens or even hundreds of units. This group of multi-unit franchisees controls 450,000 of the franchise units in the U.S.
Another growth area for Shine is complimentary business franchise owners. Another Shine franchisee who also owns and operates a mosquito control business added a Shine franchise to provide year-round revenue streams with Shine's Christmas light installation services and new landscape lighting offerings.
Shine believes the culture they have created amongst their franchisees lends to ownership success.
Shine CEO Chris Fisher said, "At Shine, our culture is a caring, supporting family that places a higher value on others than on ourselves. Our mission as an organization is to be a light in our communities; that same philosophy carries through to our owners. By supporting our owners and owners supporting each other, we've been able to build a premier home services brand. "Shine is truly a family. Not only is a family-like working environment a tenant of the Shine business culture, but multi-unit owner Mark Haskin's brother Dave owns the Shine location in Franklin, TN.
It's also the cohesiveness amongst the owners that contributes to multi-unit franchise success. Fisher said, "Shine owners are excited to see each other grow and succeed, knowing that quality ownership and growth for the brand reflects positively on their own business."
Shine's franchise model allows owners to be up and running in as little as 60 days and the Bright Start Training Program guides new franchisees through every step of their six-week opening process. Shine also makes significant investments in technology and ongoing support for franchise owners. "The fact that our owners want to open a second or even third location is proof that what we are doing works," said Fisher. In addition to multi-unit franchise growth, Shine franchises have shown consistent revenue growth in the past few years.
Shine Window Cleaning provides a complete suite of in-demand residential and commercial cleaning and lighting services. This offering provides for upselling multiple services, repeat customers, and year-round revenue streams.
About Shine Franchise Group
Shine Window Cleaning is headquartered in Holland, Michigan. Shine locations are independently owned and operated by franchise owners and located across the United States. Many prime franchise markets are still available, including Atlanta, GA, Charlotte, NC, Chicago, IL, Columbus, OH, Houston and Dallas, Tx, Denver, CO, Indianapolis, IN, and Las Vegas, NV.
For more information on Shine Window Cleaning and franchise opportunities, visit shinefranchise.com.