Why a Home Services Franchise Opportunity Could Be Your Next Business Move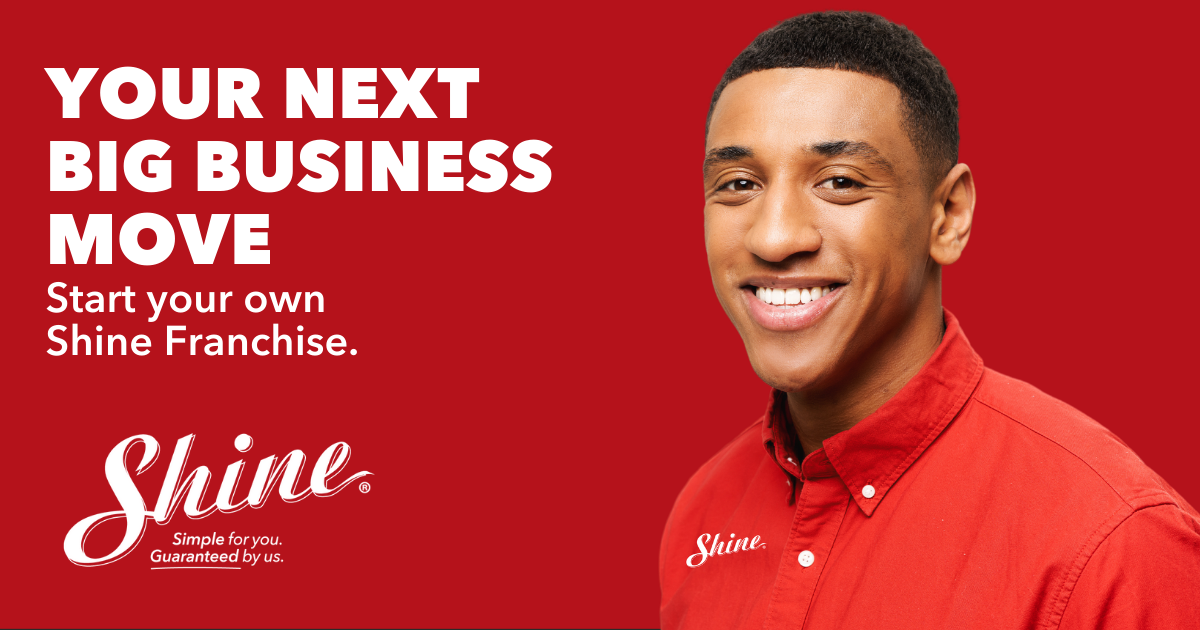 Are you among the 62% of Americans seriously considering owning a business? According to The New York Post, more than three in five American non-business owners want to transition to business ownership. While starting a business from scratch can be daunting, there is an alternative option that may be the perfect fit for you – franchise ownership. Let's explore the benefits of franchising and why a home services franchise opportunity like Shine could be the best choice for aspiring entrepreneurs.
The Benefits of Franchise Ownership
Franchise ownership offers many advantages over starting a business from scratch. First and foremost, owning a franchise gives you access to an established brand with a loyal customer base.
Another key advantage of franchise ownership is that it significantly reduces the risk of starting a business that will not succeed. Franchisors have already developed and tested their business model, so franchisees benefit from their experience and knowledge.
Finally, franchise ownership can provide a clear path to success for those new to entrepreneurship. Franchisees follow a proven business model and receive guidance and support from their franchisor, making profitability and growth more achievable. The best franchise partners provide an extensive support system to their franchisees, including training, marketing materials, and operational support. As a result, franchise owners have access to a wealth of resources to grow a successful business.
Why a Home Services Franchise Opportunity
Home services franchises offer a particularly appealing opportunity for aspiring entrepreneurs. First and foremost, the demand for home services has remained strong. Many home services franchises provide a stable customer base and recurring revenue streams. Shine owners build long-term customer relationships, unlike other businesses that rely on one-time purchases or services. This leads to reliable, predictable income.
Another advantage of home services franchises is the wide range of services. In addition to window cleaning, gutter cleaning, pressure washing, and roof washing, Shine franchisees can offer holiday lighting services and landscape lighting. Shine's service offering attracts a wide range of residential and commercial customers throughout the year, which reduces the impact of seasonal downturns – and the risk associated with starting a new business.
How to Choose the Right Franchise
Business ownership can be intimidating, especially when it involves a high investment risk, a long startup time, or a business that requires many employees, specialty equipment, or a custom retail space. These factors can make it difficult for entrepreneurs to get their businesses off the ground and achieve profitability. That's why choosing the right franchise opportunity is critical for your business's success. Before investing in a franchise, it's essential to do thorough research and due diligence to ensure that you choose a franchise that is a good fit for your goals and skills.
Reviewing the franchisor's financial statements is one of the first steps in evaluating franchise opportunities. This can help you understand the financial health of the franchise and assess its long-term viability. Another key factor to consider when evaluating franchise opportunities is the franchisor's support structure. Finally, it's also important to talk to other franchisees to understand their experiences and satisfaction with the franchise.
Shine Home Services Franchise Opportunity
With Shine Window Cleaning, franchise ownership requires low initial investment and little overhead. Most Shine owners are up and running in 90 days or less. Shine's scalable business model allows entrepreneurs to grow their businesses at their own pace.
In addition, Shine provides an extensive training program, ongoing support, marketing, and technology to help entrepreneurs own a business that doesn't own them. Shine values work-life balance and a supportive company culture, making it an attractive option for those who want to be their own boss without sacrificing their personal life.
Start Your Journey to Entrepreneurship
If you're considering starting your own business, franchise ownership is worth your attention. By choosing the right franchise, you can enjoy the benefits of owning your own business without many of the challenges associated with starting from scratch.
With a wide range of in-demand home services and a customer base that continues to expand, Shine offers a promising opportunity for entrepreneurs. By choosing a franchise like Shine Window Cleaning, you can minimize risk while maximizing your chances of success as a business owner.
If you're ready to take the next step in your entrepreneurial journey, it's time to explore Shine. With our comprehensive support and guidance, you'll have all the tools you need to build a successful home services franchise.
More Blog Posts
from Shine