Unlocking Franchise Success with The Power of Shine's Franchise Business Plan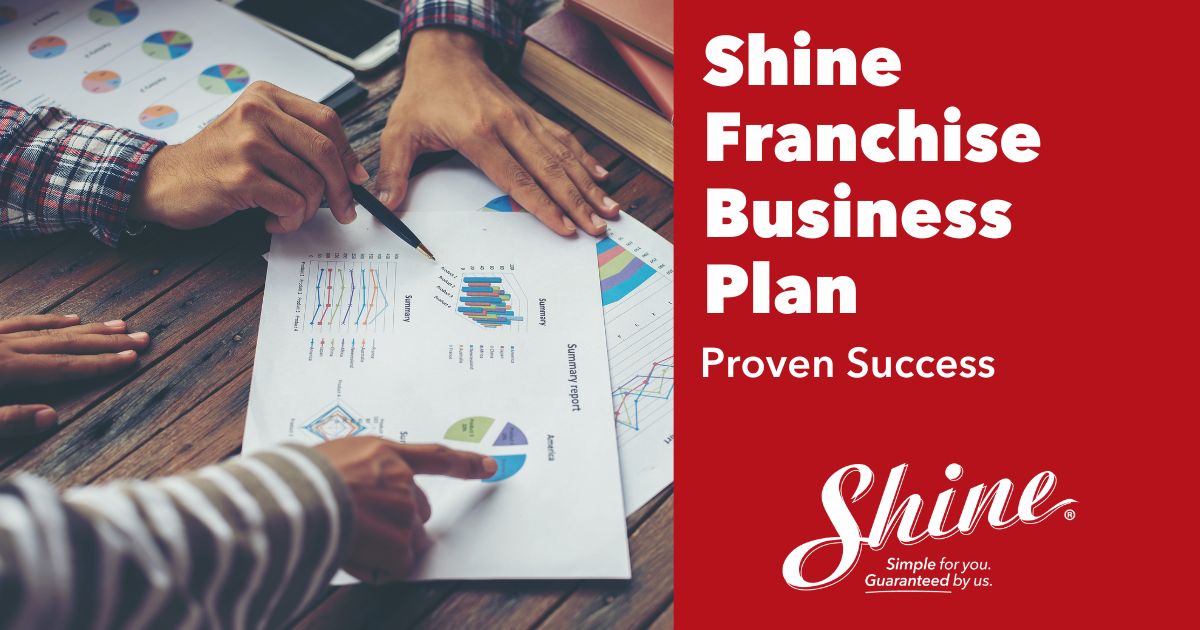 You've landed on a fantastic franchise opportunity. The concept is intriguing, the brand is well-known, and the potential for success is promising. But before you dive headfirst into this exciting venture, it's time to enter the discovery period with your franchise partner. This is your opportunity to look under the hood and into the inner workings of the business. In this crucial phase, you want to ensure that the franchise business plan aligns with your goals and sets you up for long-term prosperity.
With Shine, you're in for an exceptional franchise opportunity. What sets Shine's franchise business plan apart is its simple and scalable model, low entry investment, comprehensive training and support, strong culture and community connection, and diverse range of services. So, let's uncover the key elements that make Shine's business plan brighter than the rest.
Strong Culture
Shine's culture and connection to the community are at the heart of what makes it truly special. At Shine, three words encapsulate our aspirations: loving, serving, and caring. We strive to be known for these qualities in everything we do. We prioritize the safety and well-being of everyone on our team and extend that care to our customers. Additionally, we find creative ways to infuse joy and enthusiasm into every aspect of our work. In doing so, we foster a sense of togetherness, forming a close-knit family within our organization. Shine's culture sets our franchise opportunity apart and creates a strong connection with our community as we strive to make a meaningful impact in the lives of those we serve.
Comprehensive Service Offering
Shine offers a comprehensive range of home and commercial property maintenance services, including window cleaning, gutter cleaning, pressure washing, holiday light installation, and landscape and outdoor lighting. By offering a variety of services, franchise owners benefit from consistent demand and a steady stream of customers – and repeat customers. Unlike other seasonal businesses, Shine's franchise business model provides a year-round opportunity to maintain cash flow and retain valuable employees. With Shine, franchise owners can enjoy a stable and thriving business that stands strong in all seasons.
Market Opportunity
When reviewing a franchise business plan, carefully considering the current market conditions and trends is crucial. The home services market is experiencing tremendous growth and presents many opportunities for aspiring entrepreneurs. With a Shine franchise, entrepreneurs can leverage the existing brand recognition, benefit from a proven franchise business model, and tap into a supportive network.
Business Resources
Shine is committed to providing franchisees with a wide range of valuable business resources and equips franchisees with the tools they need to succeed and maintain a healthy work/life balance. Franchisees gain access to proven marketing strategies and resources that drive customer acquisition and brand awareness. Extensive training programs cover all aspects of operations, customer service, marketing, hiring, and financial management, ensuring franchisees are well-prepared for success. Ongoing support, mentorship, and a network of experienced professionals further contribute to franchisee growth. In addition, Shine leverages technology with a CRM and accounting systems, streamlining business processes and enabling efficient management. With these robust business resources, Shine franchisees are empowered to excel!
Business Model
When reviewing a franchise business plan, it is crucial to thoroughly assess the business model, including its complexity, startup time, required investment of time and capital, and necessary equipment or raw materials. These factors will help determine the feasibility of the franchise opportunity and its alignment with your resources and goals. Shine's business model is designed to be low investment and highly accessible. You don't need to worry about costly construction, expensive storefronts, or managing perishable products. Shine provides the van and equipment necessary to start; you only need to hire two employees. It's a simple and scalable model, and as your business grows, you can easily expand by adding more vans and team members. This streamlined approach allows flexibility and cost-effectiveness, making Shine an attractive franchise opportunity.
Shine is more than a franchise; it's a partnership providing entrepreneurs with the necessary tools and support. Whether you're starting a new venture or looking to elevate your existing franchise, Shine is here to guide you every step of the way. With Shine, you'll be equipped with a proven franchise business model with comprehensive training, ongoing support, and a strong brand that sets you up for long-term success in the cleaning industry.
Download a franchise kit and connect with a Shine franchise development team member to get started today!
More Blog Posts
from Shine