Expand Your Pressure Washing Business with an Established Franchise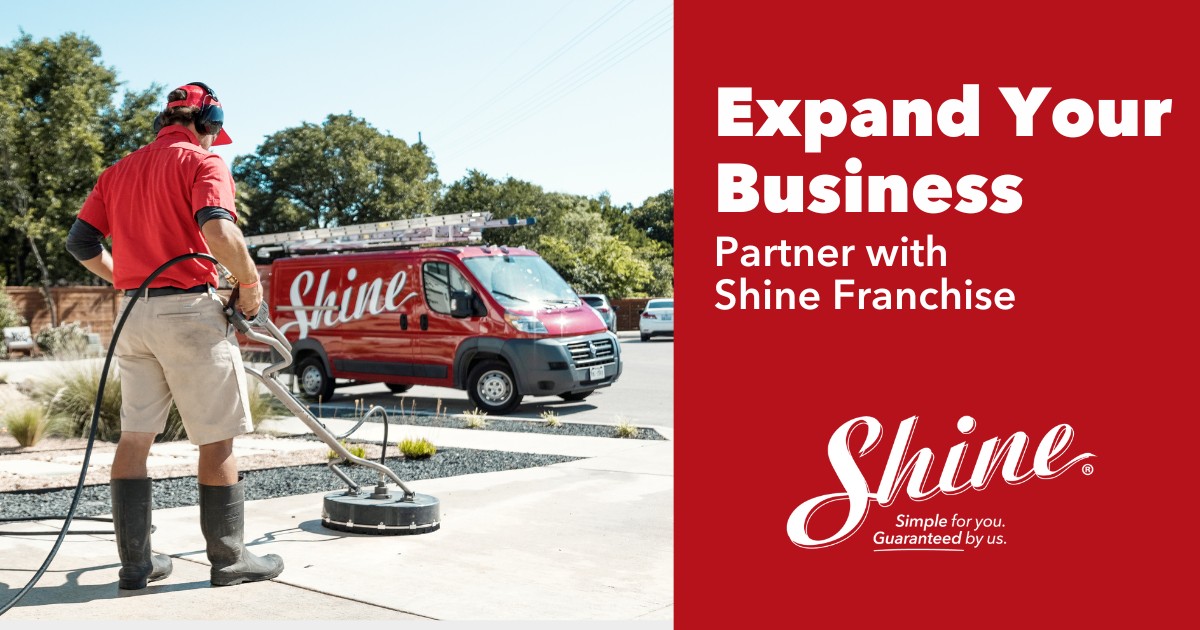 Starting a pressure washing business can be lucrative for those who enjoy working outdoors and are willing to put in the effort to build a successful business. Once you've established a solid customer base and have built up your reputation, you may start thinking about expanding your services.
One option to consider is franchising. Franchising can be a great first step to expanding your pressure-washing business, and Shine has all of the tools and experience to help you reach your goals.
Below, we outline the key benefits of franchising your pressure washing business to increase your customer loyalty and retention rate, sales, and much more.
Franchising Offers Experience & Support for Your New Business
Franchising provides a proven business model that has already been tested and refined. By investing in a franchise, you can benefit from the experience and expertise of the franchisor.
They have already established a successful business model, and they'll provide you with the training and support you need to replicate their success. This includes everything from marketing and sales to technical skills, like pressure washing techniques and equipment maintenance.
No Need to Build Your Brand From the Ground Up
Unlike starting from scratch, franchising offers you built-in brand recognition. When you invest in a franchise, you're investing in an established brand that already has a place in the market. This can save you a lot of time and money that you would otherwise spend on building brand awareness and establishing trust.
According to Salsify's 2022 survey of more than 4,000 consumers, 46% of customers tend to buy from familiar brands. Simply put; the more people recognize, appreciate, and believe in your brand, the more they buy from your business. See where the Shine brand is already making communities brighter!
Without having to worry so much about building your business' brand, you can focus on expanding your personal brand and owning the business—without letting the business own you. Putting a face and personality to your business can make it go from good to incredible, and will benefit your business in the long run.
As Henry David Thoreau expertly remarked, "What you get by achieving your goals is not as important as what you become by achieving your goals."
3 Things You Can Do to Grow Your Business Beyond Franchising
Upselling
Upselling is a great way to build your book of business. When you provide a pressure washing service, you may notice other areas customers need that could benefit from your expertise. By suggesting additional services, you can increase your revenue while providing additional value to your customers.
When you're part of a Shine franchise, you have access to our full suite of services that you can upsell to your clients:
Window Cleaning
Holiday & Christmas Lighting
Outdoor & Landscape Lighting
Pressure Washing
Gutter Cleaning
Interior Lighting Cleaning
Don't worry if any of these aren't your strong suit; your franchisor will expertly train each of your employees to ensure safety and success!
Ask For Reviews
In today's digital age, online reviews and ratings are vital to your business' success. Encourage your satisfied customers to leave reviews on your website or Google with personalized emails or leave behind cards. Positive reviews and high ratings will help build your business, and how you reply to less than stellar reviews goes a long way, as well.
The end result? Curious customers will feel more comfortable reaching out to your business when they see many other customers leaving 5-star reviews.
Have a Referral Program in Place
Referrals are a tried and true way to build your business. Encourage your satisfied customers to refer their friends and family to your business.
In fact, 88% of people hold the highest level of trust in a brand when a friend or family member recommended it. You can offer incentives, such as discounts or even free services, to incentivize your customers to recommend you to others.
Grow Your Pressure Washing Business with Shine
As explained above, franchising can be a great first step to expanding your pressure washing business. By investing in a proven business model, you can benefit from the experience and expertise of the franchisor, while also expanding through customer service, upselling, reviews and ratings, referrals, and other proven strategies.
With the right approach, you can build a successful pressure-washing business that will continue to grow for years to come.
Whether you're looking to grow your current business or are thinking about starting your own business from the ground up, Shine has the tools and experience to get you off the ground and running quickly. Reach out today to download our franchise kit and learn more about how Shine can help you reach your goals!