Do you Think Starting Your Own Business is Too Hard? Not with Shine.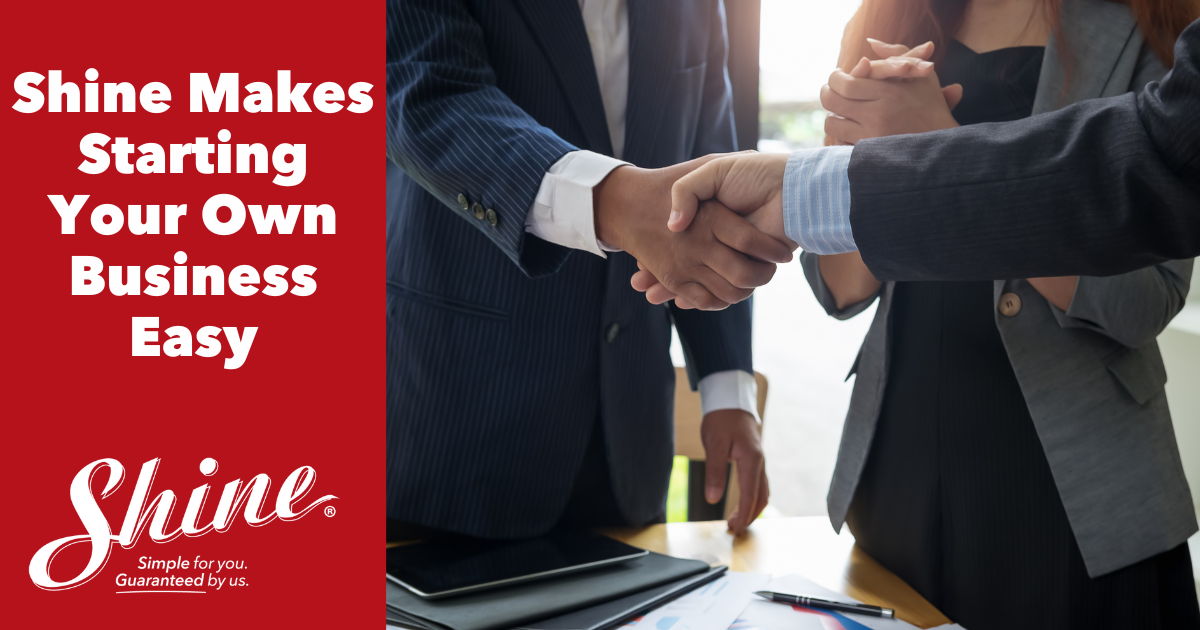 Will there be a recession this year? What's happening with the job market? Will AI take over the world?
While we cannot predict the future, we know that the business landscape is constantly evolving and influenced by various factors, such as shifting market trends and changing consumer behavior. As a result, the prospect of starting a business, particularly in an unpredictable market, can be intimidating. Moreover, the added self-doubts about the costs, time, and challenges of running a business may make it seem impossible.
However, with Shine's proven franchise opportunity, starting your own business has never been more accessible or straightforward. With the support of Shine's franchise model, you can minimize the risks and challenges associated with starting a business, allowing you to focus on your passion and building your enterprise. Shine is a leading home services brand that provides year-round window cleaning, power washing, gutter cleaning, landscape lighting, and holiday lighting services to residential and commercial customers.
In the wise words of Fran Tarkenton, NFL Hall of Fame quarterback and founder of Tarkenton Financial, "If you wait for the right time or the good times to start a business, you'll wait all your life." So, let's dig into how Shine can make your dream of owning your own business a reality.
Low Overhead & Investment
One of the biggest obstacles to starting a business is the cost. Traditional brick-and-mortar businesses require a significant investment in real estate, equipment, and inventory, which can be difficult for new entrepreneurs to afford.
However, with Shine, the overhead and initial investment are low. Shine was ranked by Franchise Business Review as a Top Low-Cost Franchise, most recently in 2022. It recognizes the best franchise opportunities with an initial investment starting at under $100,000 and ranked highest in satisfaction among its franchisees. This makes Shine one of the best business opportunities for business owners in their investment class. Shine's franchise opportunity combines ease of entry with an in-demand home maintenance service offering that helps you build a profitable business.
Fast Ramp-Up Time
Another challenge for new businesses is the ramp-up time. Many businesses often require months of preparation before they can open their doors. This delay can be frustrating for entrepreneurs who are eager to get started.
With Shine's fast ramp-up franchise opportunity, your location can be up and running – and booking customer appointments – in as little as 90 days. Shine provides the equipment and the van. All you need is to hire a two-person crew to start. You run the business, and as your business grows, you can expand with more vans, team members, and revenue!
Bright Start Training & Support
Starting a business can be overwhelming and navigating the process alone can be challenging. One of the many advantages of a franchise opportunity is the established business plan and franchise partner support. Shine offers a comprehensive training program called Bright Start, which guides new franchisees through every step of the process. Plus, the experienced franchise team is there to help you every step of the way. From signing your contract to opening your Shine location, it only takes about seven weeks.
The Bright Start training program covers everything from business planning and logistics to marketing, vendor meetings, CRM, and location set-up. You'll even receive on-site training at Shine's home office. With Shine, you'll have all the tools you need to succeed and thrive as a new franchise owner.
Even in an unsteady business climate, Shine's franchise opportunity helps entrepreneurs reduce risk and get their businesses up and running quickly. With year-round, in-demand home maintenance services, such as window cleaning, power washing, and holiday lighting installation, Shine provides a valuable opportunity for entrepreneurs. Franchise owners have found the freedom to create a fulfilling and rewarding business with Shine. And Shine's supportive team culture, with values centered on kindness, safety, positive energy, and excellence, is a refreshing change from the corporate grind.
Download a franchisee kit, connect with a franchise team member, and start your entrepreneurial journey today!